Running through the fields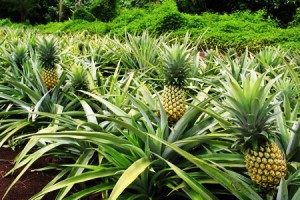 The Raid Painapo is organized every year in Moorea, Tahiti's sister island. This 20 km cross-island race is an opportunity for runners from all over the world to challenge themselves in a heavenly setting between lagoon, mountain and rainforest.
A grueling event with two ascensions of up to 450 meters in height, competitors complete the race by a team of two runners. Through the course of their race, each team passes through landmarks of luxuriant vegetation and cultural treasures like the marae Tapu Horo and Tapu Hute, the ancestral caves or the Opunohu valley.
Various events accompany the race: local dance presentations, singing performances and a fruits buffet… Everything is done to make this event fun and enjoyable.
The raid Painapo is above all, a moment of celebration for the island of Moorea and for its main resource; the pineapple. The fact that the pineapple is the logo of the race (painapo meaning pineapple in Maori language) and that it also the primary agricultural product of Moorea is no coincidence. The island has numerous hectares of pineapple plantations since 1970. However, pineapple cultivation had been more technologically developed in 1981 with the installation of the Rotui juice factory in Pihaena. Today, the Rotui factory has made Moorea the principal pineapple producing island and a significant economic resource of French Polynesia.
For this 11th edition, the start of the race shall take place in the Opunohu valley on Saturday, September 22nd. The organizers propose two routes corresponding to two levels of difficulty: elite (18 000 steps) and fun (8 000 steps).
Last year, over 600 competitors participated in this famous race marking this fun filled event !