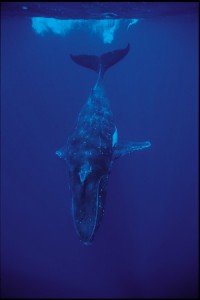 French Polynesia's territory which is as big as Europe hosts thousands of natural treasures of flora and fauna, marine and land species, protected animals, rare birds, endemic plants, giant ocean creatures, microscopic fish… This rich but fragile ecosystem must coexist with humans, this is a big ecological challenge that many associations decided to face. Let's discover a few of them…
In the Ocean:
Humpback whales, sperm whales, orcas, dolphins, turtles, rays, sharks … so many mammals and marine species to protect ! With  4,8 Millions of sq meters, Polynesia has the largest marine mammels sanctuary in the world. Scientists, searchers, vet, volunteers, they all strive for a better knowledge and understanding of species, their protection and the preservation of their natural habitat. Consciousness-raised campaigns are done towards children through educational programs which is essential.
The Association Te mana O te moana created several educational materials for kids. They also created the observatory of cetaceans and the Observatory of Marine mammals and turtles a participative site open to everyone who wants to share his observations.
Mata Tohora (Association for the protection of marine mammals of Polynesia) reached more than 1000 people and made them aware of the whales watching rules, they also created the "Whales Day" in favour of disadvantaged children.
The GEMM (Groupe d'Etudes des Mammifères Marins) proposes an active participation through sailing observation expeditions to follow the whales and dolphins, a great way to spend useful holidays ! You can also become an « Ocean sentinel » and share alerts in case of unusual or worrying observation.
Sharks (who are not mammals) are fully part of the underwater landscape. The ORP puts together all the available information about sharks and rays in Polynesia, they work for the preservation of endangered species, follow their movings and last but not least promote the polynesian sharks image around the world.
Even if the turtles are protected, they are still endangered. Some hotels decided to dedicate them an area, a great opportunity for the associations. The Bora Bora Turtle Center, inside the Méridien Bora Bora is on of them. The Moorea Turtle Clinic is located at the Intercontinental Moorea and already welcomed more than 300 turtles. The Bora Bora Pearl Beach Resort & Spa houses « Toa Nui » a coral nursery managed by a marine biologist.
On land (and in the air) :
Several action groups and associations commit themselves to ecology, the « green squads » are an example with their volunteers trying to see to environment respect.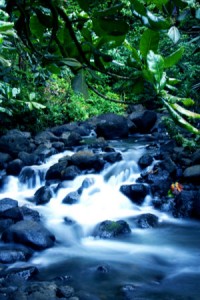 Manu (manu means bird in Tahitian) manages a study and protection program towards endangered birds species (such as monarche, 'ura or pétrel) their website is very complete for ornithology passionated.
« The Hikers cleaners » (Rando nettoyeurs) participate for example to miconias uprooting operations (miconias are parasitical plants threatening the forest).
Te Ui Avatahi Association organises bottles collections, cleaning operations, miconias uprooting and taramea collection (which are strarfish eating the coral).
The associations remind us that protection of the generous nature in French Polynesia is the concern of all of us. Kids have a key place in the actions, they are the best messengers for respect and future of Mother Nature.