A turning point in the World Championship Surf tour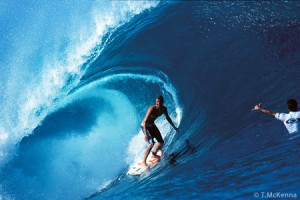 Every year the Billabong pro competition takes place in Tahiti more in the village of Teahupoo. This surf competition is a much awaited event by all surf lovers and competitors from all over the world. At the same time, it is considered a dreaded challenge come surf season for the Teahupoo surf spot often promises sometimes more than extreme surf conditions.
In the last 15 years, Tahiti has been part of the international surfing circuit that include 11 events that make up the World Championship Tour from countries like Australia, France, Hawaii and Spain. The first surf event in Teahupoo took place in 1997. This competition was called the Black Pearl Horue Pro and was won by a then-aspiring young Hawaiian surfer named Andy Irons. This first competition in Tahiti really propelled Teahupoo to the forefront of world surfing arena notably thanks to a laudatory article in Surfing Magazine.
A mythical surf spot – Teahupoo harbors the widest and the largest waves in the world. It stands among some of the most treacherous surf spots because the wave breaks directly on the reef a few centimeters from the surface. These extreme conditions sometimes give spectacular shows like in August 2000 when Laird Hamilton went surfing a 15 meters wave. The equivalent of a 6 story building!
Kelly Slater won the Billabong Pro Tahiti competition last year for the fourth time. This year, 48 professional surfers will vie for the title. In the surfing world, the stakes are high – like moving up in the international ranking but also prize money of about 350 000 €. Certainly keen motivation for surfers to face the titanic wave of Tahiti!
Date of Billabong Pro Tahiti 2012 : August 16-27, 2012
https://www.youtube.com/watch?v=oS5BbSX3uaw