The turtle sanctuary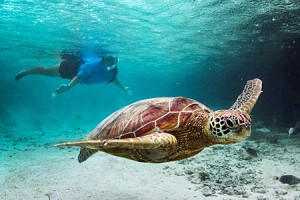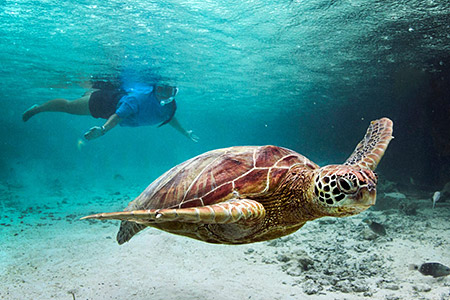 The unique turtle protection center of French Polynesia is located in the private lagoon of Le Méridien Bora Bora resort. It is sometimes called the "sanctuary" by its administrators.  Its story began in year 2000 when a guest of the hotel found and brought an injured turtle to the resort reception desk. The hotel staff took care of this first « special refugee». A second injured turtle was later found, thus the idea of a protection center came naturally.
The Bora Bora turtle center was created with one main objective: to protect and aid the marine turtles of French Polynesia. The project was made possible through the collaboration of the "Direction de l'environnement de la Polynésie française".
The center takes care of species such as the Green Turtle and the Hawksbill turtle which are the main species in our waters. These species have to face numerous threats (fishing, poaching, natural predator, etc.).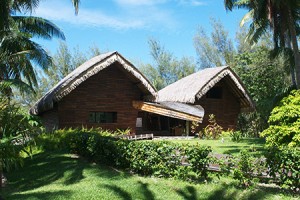 It should be noted that each turtle's stay in the center is only for the time it is required for it to recover. It is not a zoo.  After a few weeks or months, the turtle is returned to its natural environment. Approximately 400 turtles have already been reintroduced in the ocean thanks to the actions led by the center. Many births have also taken place in the Bora Bora turtle center thanks to its artificial incubation system. This system allows saving numerous eggs in difficulties. So, during your stay in Bora Bora, you could visit the turtle sanctuary, but also a turtle nursery and a coral nursery dedicated to the sea corals development.
Today, the Bora Bora Turtle center has its own team of biologists and scientists. The center works now on other fronts: the public awareness about the nature conservation issues and the scientific research on the local fauna (study the migration of turtles, study turtle nesting sites…). In 2012, it officially became a protection entity in French Polynesia managed by the SPDD, the "Société Polynésienne de Développement Durable".
Nowadays, the Bora Bora Turtle center offers beautiful infrastructures dedicated to sustainable development:
– a museum dedicated to our ecosystem
– an underwater observatory to have a unique viewing point for marine turtles, fish and coral
– educational aquariums to discover the hidden treasures of coral habitats
– a touch pool to interact with animals
– a coral nursery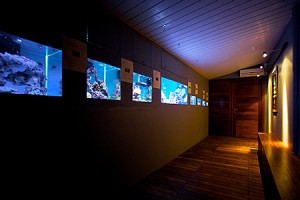 – a laboratory
Since its creation, the center has welcomed nearly 3000 children of all ages to increase their awareness about protecting the environment. These encounters with young Polynesians are always very encouraging for the future of the center.
© photos : Le Méridien Bora Bora