Often in the shadow of hers neighboring islands, Raiatea and Bora Bora, Tahaa rarely makes the cover of the tourist brochures. Yet "the vanilla island" is one of the most preserved and richest Leeward Islands… To celebrate the raid Vanira 2016, a 15km race that crosses the "Vanilla Island ". E-Tahiti Travel proposes a quick stopover in authentic Tahaa.
In the south, Tahaa is bordered by deep bays, where sailing ships usually make a stop… sometimes lasting several years. Tahaa is bordered in the north by a magnificent necklace of motus (islets), these islands cut into the coral plateau, shaded by small coconut groves. The island definitely has all the trappings of the postcard, veiled with mystery and allure.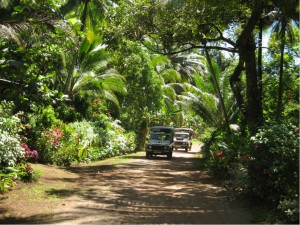 A paradise on earth …
On Tahaa, no airport or large landing dock are to be found. The inhabitants have their favorite maritime shuttles to rally neighboring Raiatea, sister island sharing the same lagoon and only three kilometers away. After about twenty minutes crossing in a beautiful mottled turquoise lagoon of white sand banks, you land on one of the few keys of the island, the only doors to Paradise.
Along with the island of Huahine, Tahaa is one of the main agricultural cradles of the Leeward Islands, and for good reason. The pure blue of the lagoon meets the green of very small but richly cultivated hills. Grapefruit, mango, coconut, notably copra abound where the aroma of the fermented coconut permeates from the many drying kilns set before the rustic "fares" of the island. And yet … Her nicknname, the "Vanilla Island" is well founded … Almost 80% of all production of the famous Tahitian vanilla, the vanilla tahitensis, one of the most popular species (and most expensive!) in the world.
Since the vanilla culture is composed of small family farms, some vanilla growers, who prepare the dry pods before reselling wholesale, offer tours of their plantations. A tour of the plant stakes, the manual "mariage" of the vanilla flower, harvesting and selection of pods … The secrets of this orchid of paradise will be revealed.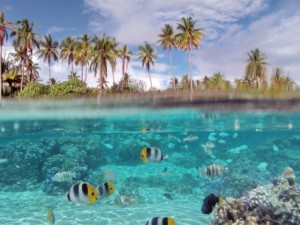 … And a marine sanctuary
A must-do for all nature lovers, Tahaa has a fabulous lagoon where the black pearl and heavenly motus are part of the landscape. The vanilla island is also a mecca for snorkeling enthusiasts. At the edge of the Motu Tau Tau, located west of the island and on which we find the luxurious Tahaa Island Resort and Spa, a veritable open-air aquarium is a must visit on Tahaa and probably all of French Polynesia!
Dubbed the "Coral Garden", it could have been called the Garden of Eden, where the concentration and variety of fish and coral are amazing! Take a kayak or a paddle board and discover the best spots of the island and visit the Tahaa coral garden. Visit the motu of Maharare. From there go on foot 5 minutes south of this small motu stopping just before the reef. Don you mask and snorkel, and jump in the water! From there, you can just enjoy the scenery and discover the beauty …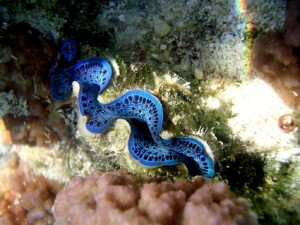 The coral garden is actually a giant natural toboggan created by an inlet naturally dug out by the powerful current passing between two islands there. You will have the feeling of being on a treadmill while you view some of the most beautiful fish species throughout Polynesia is guaranteed! Throughout the descent, about fifteen minutes, angelfish, triggerfish, damselfish, parrotfish, mullet, soldier fish or clown fish compose the plethora of colors and pique the curiosity of skin divers, leaving you wanting more…