Ia oa'oa i teie Noera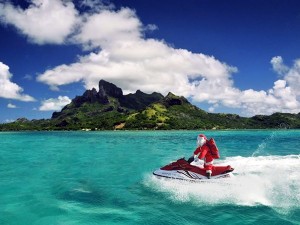 As you know, French Polynesia is a large territory isolated in the middle of the Pacific Ocean, about one day away by airplane from Paris and 8 hours from Los Angeles. This important isolation probably makes Tahiti as the last destination on the Santa Claus' itinerary. In spite of this last position, we are not really out of step with the rest of the world about Christmas festivities…
First of all, for those who still think of Tahiti as a wild country, I have to tell that we also celebrate and enjoy Christmas in French Polynesia.
Indeed, even if some differences remain, the Tahitian Christmas celebrations are similar with those you live in your own country. One of the main differences is that we live Christmas celebrations during summer season in French Polynesia, the hottest time of the year and not to mention our rainy season. You can imagine how rejoicing it is!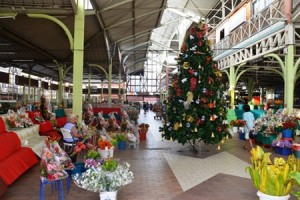 These end-of-year celebrations always offer a period of joy and abundance. It is an appropriate time for large families' reunions over a huge meal. Here in French Polynesia, the traditional Christmas meal is generally the famous « Ma'a Tahiti » but can also be typically European with Foie gras, salmon, oysters and stuffed turkey for example. Beside, this is one of the great opportunities for all the shops of the islands, which are in turmoil selling for many synthetic Christmas trees and garlands. Everyone and especially kids, enjoys decorating their home and garden, setting up a small neighborhood decoration contest.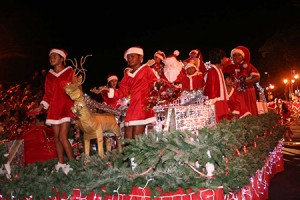 As you certainly know, houses have no chimney in French Polynesia. Luckily, Santa Claus passes exceptionally through windows for his gift delivery. In addition, don't be surprised if Santa Claus traded his traditional sledge for a Polynesian outrigger canoe in our islands.
A Christmas market is organized around the cathedral of Papeete. Of course, it cannot be compared to the famous Christmas market of Strasbourg but this open-air market offers a beautiful promenade area where you could find last minute gift ideas. For gourmets, the hot mulled wine is replaced by a tasty pineapple juice in this Tahitian market!
French Polynesia is a largely catholic country, many families will gather at the midnight mass after the Christmas meal. After this pious step, some families will choose to open gifts on the night of December 24 while others will wait for the 25. Well, it just remains for me to wish you a happy festive season and see you next year!