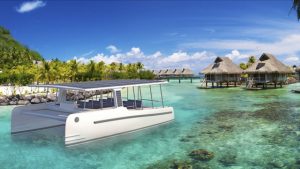 A multitude of signs attest to real environmental awareness in French Polynesia. Seen in the Leeward island of Raiatea, a brand new model of catamaran powered by solar energy alone will soon be on its test maiden voyage! Evidence that the green revolution is underway in Polynesia.
Her name is Soelcat 12 and her creator, designer and architect Joep Koster, introduces the first catamaran devoted to 100% sustainable tourist cruises! To promote his latest innovation, the Dutch ship builder, specializing in fully automated solar powered vessels, has naturally chosen Polynesia. As of September 2016, you may be lucky and likely to come across her during your travels. Imagine the pleasure of a silent and fuel free catamaran cruise on the lagoon without the smell of fuel wafting during the trip. This world premiere could probably be the advent of what will be the cruise industry of tomorrow. French Polynesia looks set to lead by example!
And it is no coincidence that the Soelcat 12 is set to take her maiden voyage in the lagoon of French Polynesia … Beyond its beautiful waters, the Fenua has grown to become the image of an eco-destination. Aware that her greatest "sustainable" asset is her incredible natural heritage…
Polynesia, a heritage to preserve

Polynesia is some 118 islands spread over 84 atolls, 20% of the world's atolls and more than 15,000 km2 of coral reefs that diving enthusiasts particularly like …
This wealth is what French Polynesia means to preserve. Since 1971, several marine protected areas with different objectives (classified sites, maritime spatial management plan), but also fishing zones that contribute to the better management of the marine environment have been established … Here are two illustrations:
– The network of educational marine areas of the Marquesas' Pukatai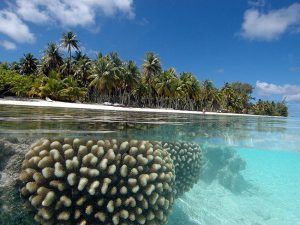 Pukatai is a pilot network of six educational marine areas in all six inhabited islands of the Marquesas, offering to federate management via their schools, involving students directly, increasing awareness and responsiblility for the preservation of coastal areas. A great way to involve and educate young generations to preserve their environment. The success is such that the greater France is preparing to create similar marine areas on the Atlantic coast!
– Biosphere Reserve in the municipality of Fakarava
Taiaro was in 1977 the first atoll to integrate the international program "Man and Biosphere" of UNESCO. Today, the biosphere reserve relates to the seven atolls of the common Fakarava Aratika, Fakarava, Kauehi, Niau, Raraka, Toau and Taiaro. Considered a true model of governance of the lagoons, the biosphere reserve allows Fakarava to stay Polynesian Mecca for scuba diving. And for a long time to come…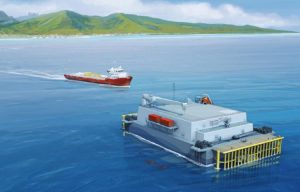 The energy of the future is in the sea

Producing energy in this string of islands in the middle of the Pacific is a perpetual challenge… If Tahiti and its islands are highly dependent on fossil fuel that is imported in by boat from Singapore – a real energy transition could be underway in French Polynesia.
French Polynesia could even occupy a strategic place in the Pacific basin in the aim of research for future energy alternatives. Some proof of this endeavor is that of the fully autonomous air conditioning systems for energy in two luxury hotels on the atoll of Tetiaroa and the island of Bora Bora. Better referred to as SWAC, sea-water air conditioning system. Its principle: draw cold water from the depths to serve as coolant for their air conditioning systems … and that's only the beginning! A draft central thermal energy conversion (OTEC) is currently under review with the French group DCNS for establishment in Tahiti.
Let it be said, that our blue lagoons are veering to green energy, for a more sustainable and responsible tourism industry!