The Marquesas Archipelago—"Ua Pou"
Theme: "Te Tuhuka," carriers of knowledge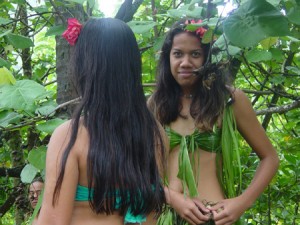 The first festival of Marquesan arts on the island of Ua Pou was organized in 1986 by the cultural association "Motu Haka o Te Fenua Enata." Well aware of the fact that as time passed by, the memory of the old "Tuhuka" was in danger of being lost, the members of the organization encouraged young Marquesans to draw knowledge from their traditions and to learn from the last carriers of ancient knowledge.
Henceforth this festival is organized through careful and enthusiastic preparations every fourth year, and is held on one of the four most populated Marquesan islands. Bringing together more than 1,800 participants from all four corners of Polynesia—from Hawaii all the way to New-Zealand—the festival has become one of the most highly regarded cultural celebrations to be found in the South Pacific. Visitors and participants alike come to share cultural heritage through a number activities, such as dancing, sports, singing and so on. This festival is a must-see for visiting travelers who are anxious to discover the less known aspects of the Marquesan culture and at the same time take pleasure in the beautiful surroundings of the Marquesan Islands.
© Tahiticommunication – all rights reserved / Translation: Celeste Brash
Photo E.Bonifait