Bobby HOLCOMB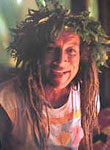 Bobby Holcomb was born in 1947 in Hawaii where he early became mad of Polynesian legends as well as music, dance and painting. He travelled all around the world during a few years and met numerous interesting people such as Dali and Franck Zappa themselves.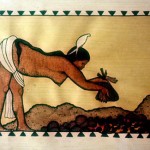 He arrived in Tahiti in 1976 and quickly sat up in Huahine where he tried to blend into the local population by adopting its way of living and learning its language. For an entire generation, Bobby Holcomb simply became Bobby : a complete artist who never stopped defending Polynesian culture. Its committed songs -about nature protection for instance- let a deep impression on its contemporaries as well as its beautifully colored paintings that are still today the only complete work of illustration of local legends.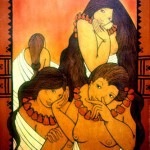 Its constant effort of integration as well as its contribution to Polynesian artistic and intellectual circles were finally awarded in 1990 when he was elected Man of the Year. Its death from a cancer in 1991 let an orphan generation and the music circle in lack of inspiration.
GOTZ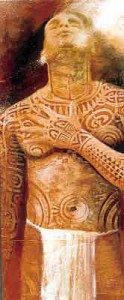 Born in France in 1964, GOTZ is a self-taught artist that does a bit of everything : strip cartoon illustrator, modelling, sculpture, creation of accessories and scenery for theatre and musical groups…
Passionate by early master and in search of a more authentic culture, GOTZ left France in 1991 to discover French Polynesia where he impregnated with Tahitian culture. He choose to set up its studio in Moorea, where he divides its time between working in publishing as an illustrator, making cartoons for the press, publishing a book about its new passion -tattoos- and painting.
GOTZ shows its work permanently at Galerie Winkler, 17 rue Jeanne d'Arc, Papeete. For more details : www.gotz.pf
Christian DELOFFRE
Christian Deloffre was born in 1950 in Paris where he entered the Ecole supérieure des Beaux-Arts -a prestigious art school- where he learned among others metal sculpture with Bernard Perrin. However, its sensitivity as an artist led him to choose sweeter techniques as wash drawing and watercolor.
He sat up in Tahiti in 1980 where he takes part to a dozen of exhibitions. Its style is realistic and its favorite subjects are nude and Polynesian women hair. He shows its work permanently to the Reva Reva gallery in Papeete.