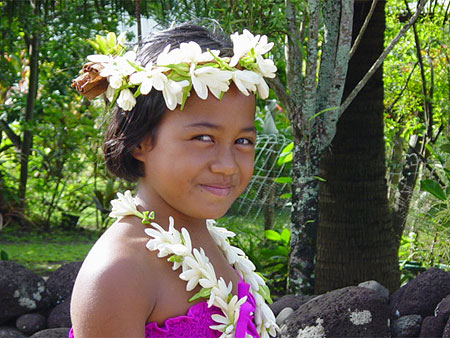 Tahiti and Her Islands are considered as a real floral paradise for the species number is huge.
Everyday, Polynesian people wear at least one flower behind their ear or sticked into a bun. Other wear crown heads in all occasions and add a garland of flowers to give a festive air to their clothes.
Last but not least, flowers are a greeting sign, as you will see when you arrive in Tahiti Airport where you will be given the traditional Tiare Tahiti.
Then, you will have to know what to do of this flower ! Actually a true "language of flowers" exists in Polynesia, so here are some advice to avoid any mistake.
Worn behind your right ear, it means you are single, available.
Worn behind your left ear : you are married, engaged or otherwise taken.
Worn behind both ears : you are married but still available.
Worn backward behind your ear : you are available immediatly.
Through the years, the Tahitian gardenia (Tiare Tahiti) has become one of the main emblems of French Polynesia where it is largely used in design and advertisement (bank, airline…). Its snowy-white color, as well as its subtle fragrance, may be one of the reasons why it is so prized.
Largely reproduced on the materials used to make the very famous "floral shirts", the Hibiscus is also an emblem of the South-Sea islands. Its various colors and sizes -from the little to the big ones, its petals sometimes in double raw or finely chiselled will amaze you and let's bet you will wear it soon !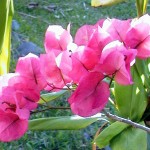 Heliconias, Red ginger and Red torch ginger, Flamingo flowers… are frequently used by the mama (Tahitian grandmothers) to make their floral compositions. These flowers are also used to make floral arrangements for parties. Coconut palms are attached around not-so-esthetical posts to allow different flowers and greenery branches to be sticked into it.
Paper flower, which flowers seem to be made in tissue paper, can be found in every Polynesian garden. There is an uncountable number of colors from beige to pale pink, from fuchsia to purple and not to forget orange… but be careful of their terrible thorns !
French Polynesia counts many orchid varieties, the most famous member of the family being without contest the Tahitian Vanilla.
Temple flower is actually a little tree with bare branches and bi-colored flowers. You will be seduced by their soft shapes and their different tones -from pastel to intense colors.