The French Polynesian vegetation has two main characteristics : a strong rate of endemic species for a few number of species since only a few of them have been able to settle on such little and isolated islands.
An exceptional endemism in high volcanic islands…
About one thousand plant species exist in Polynesia (against 3,500 in New Caledonia and 5,000 in New Guinea). Most of them can be found in high volcanic islands where conditions of weather, humidity, altitude and sun exposition are favorable to the development of a diverse vegetation, from beaches to mountains. Moreover,40% of plants are indigenous to French Polynesia.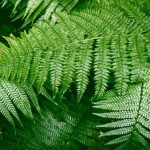 Ferns, like tree fern, particularly prize these humid and windy places. They constitute the biggest vegetal group since they account for 31% of the Polynesian flora. They are currently used by the Polynesians to make head crowns or floral arrangement for parties.
POLYNESIAN VANILLA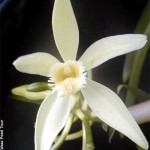 This plant that takes its origin in central America was introduced in Polynesia in 1848 and is actually a creeper from the orchid family that needs a support to sustain.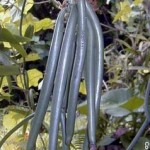 In the 1950′, French Polynesia -more precisally the islands of Raiatea, Tahaa and Huahine- was the second world producer behind Madagacar. Nowadays this "brown gold" is still cultivated but has become a rare and prized product.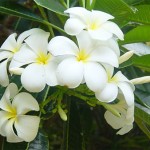 Finally, the coastal plains are filled with temple flowers, tamanu used in woodwork or aito called "iron tree" for its wood is really strong. You will also find in the littoral the very famous coconut tree.
Coconut tree
As one element of the Polynesian dream, the coconut tree was actually brought by the first immigrants who diffused it in all the South Pacific islands. He quickly became the odd-job tree since everything in it can be used, in raw state or worked.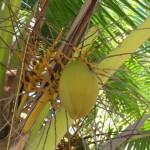 The heart of the young leaves is really soft and can be eaten in salad. The nut, in which you will find water, is grated and pressed to obtain the famous coconut milk. Dried and pressed, the almond also produces oil, base of monoi ("perfumed oil", in Tahitian).
Actually, 20 coconuts are needed to produce 3 litres of oil to which are added budding Tahitian gardenias that speak in it about 10 days. Monoicontains a strong concentration of moisturizing, nourishing and softening agents used in cosmetics.
Weaved palms become roof, mats, hat and baskets. Their secondary vein called niau, real thin sticks, are used as skewer and broom.
The husk of the coconut weaved or in cord was used by Polynesians for all the tyings, and today are still used in decoration and craft jewelry.
The trunk is still employed as a building material, its bark and its roots being used in traditional medecine.
…and atolls poor in plants
Atolls only account for one hundred plant species -with 7 indigenous species- for their soil is particularly poor and saline. But this selective environment has led the plants to adapt by different means.
By a very long root system first, to ensure a sufficient water supply, as the miki miki, a bush with very strong red wood. By reducing the size of their leaves then, and by the same time transpiration, as the u'u. Or byreducing their height and their branching capacity, like the miro.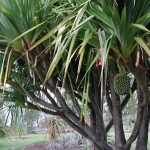 The pandanus or the pisonia only grow away from the sea where the air salinity is less important. The pandanus leaves are often used for weaving. Simply dried in the sun or made white in a citrus bath, they are both resistant and flexible, two essential conditions to create the traditional hats, fans and baskets. Besides, pandanus leaves are also used to make bungalows roofs which actually saved this tradition.
Other pages in the same section