Location in the world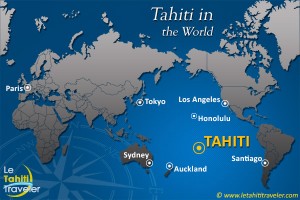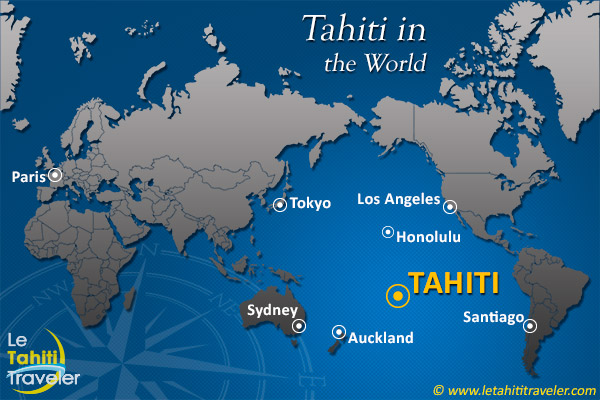 French Polynesia is composed of 118 islands divided into 5 archipelagoes located in the middle of the South Pacific Ocean. Spread over a surface larger than Europe, these 118 islands barely occupy 4,000 km² of land (less than 1/100 of the surface of France).
Of this surface the atoll of Rangiroa is the largest with a total of 1600 km². The entire island of Tahiti, the next largest at 1000 km², could fit into its huge lagoon.
250 000 yearly visitors, mostly from the U.S., Japan and Europe, are expected during the next decade.
Situation in the Pacific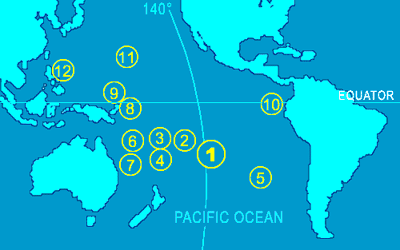 | | |
| --- | --- |
| 1 French Polynesia (TAHITI) | 7   New Caledonia |
| 2  Cook Islands and Samoan Islands | 8   Melanesia |
| 3  Wallis and Futuna | 9   Micronesia |
| 4  Fiji Islands | 10 Galapagos |
| 5  Easter Island | 11 Hawaii |
| 6  Vanuatu | 12 Philippines |
The 5 archipelagoes of French Polynesia
Society islands

Winward islands : Tahiti, Moorea, Tetiaroa…
Leeward islands : Bora Bora, Huahine, Raiatea

Tuamotu islands : Rangiroa, Manihi, Tikehau, Fakarava…
Marquesas islands : Hiva Oa, Nuku Hiva…
Australs islands : Rapa, Tubuai…
Gambier islands : Mangareva…