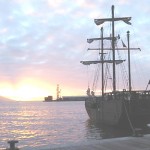 The Pacific ocean remained ignored and unexplored by European nations for a long time. Until the 15th century, business was focused on Asia but with the beginning of near east wars, European nations started to look to the West for an alternative "spice road" to India. The era of famous explorers had started.
From the top of a mountain located near the Panama Isthmus, Spanish governor Balboa was the first one to discover a large ocean that was finally named "Pacific" by Portuguese sailor Magellan in 1520. Indeed, this adventurous navigator opened the west road to India through the straight that still carries his name today (Straight of Magellan – Chile) and Cape Horn.
Originally, the "discovery" of the Polynesian islands belongs to the Spanish sailors who reached the Marquesas islands in 1595. English sailors arrived in Tahiti  in 1767 followed by the French and  started to develop economical relationships with the locals and opened a new era of scientific discoveries and reports about this part of the world that was badly known by the occidental world until then.
Alvaro de Mendana de Nehra & Pedro Fernandez de Quiros (Queiros in Castillan)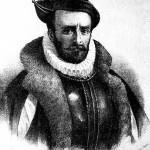 During his first Pacific cruise (1567 – 1569) to conquer new austral lands, Mendana did not discover any islands of Polynesia. It is only during his second trip that started from Peru while assisted by Portuguese De Queiros that he reached the Marquesas Islands (at Fatu Hiva) in1595. This encounter brought to the Marquesas people a terrible plague : fire arms. Mendana died while his ship was travelling towards the Philippines.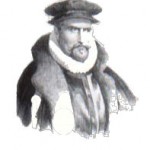 In 1606 during a new trip, De Queiros reached a new land that he called Sagittaria. For a long time, this new land was believed to be the isthmus of Tahiti at Taravao but according to the documents and description we have, De Queiros had actually discovered an atoll in the Tuamotu.
Louis Antoine Bougainville (1729 – 1811)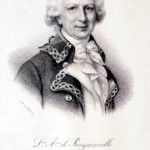 April 2nd 1768, the French Captain Bougainville (Poutaveri in Tahitian) reached Tahiti aboard his ship La Boudeuse and another vessel L'Etoile. He first anchored in Hitiaa bay on the east coast and later moved to Matavai bay. As he did not know that the island had already been discovered by Wallis, he annexed it in the name of His Majesty King Louis XVI and baptized it "New Cythera". When he returned from his trip (1766-1769), he wrote the famous Voyage autour du monde de la Boudeuse (Trip around the world aboard the Boudeuse) published in 1772. Bougainville was the first navigator to bring a Tahitian with him, his name was Aihutoru.
James Cook (1728 – 1779)
The English sailor James Cook reached Tahiti for the first time on April 11th, 1769 with his ship called the Endeavour.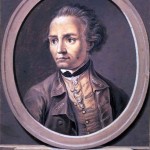 The previous descriptions of paradisiacal islands made by Wallis was exiting the minds of Europeans. At that time, scientists were mostly interested by stars observation and especially by the path of Venus. The English government had asked Cook to organize a scientific expedition with several scientists among whom Charles Green (astronomer) and Sir Joseph Banks (naturalist).
Cook built a first observatory at Mahina Point (today called Venus Point) and a second one on the island of Eimeo (Moorea) that Wallis had already baptized "Duke of York Island" . After 90 days, Cook left the Society Islands to New Zealand.
During his second trip (1772 – 1775) on his ship Resolution, he stopped at Tahiti on August 10th, 1773 but only for a few days before sailing toward the Antarctic ocean. He came one last time to Tahiti in August 1777 on his third and last trip and unfortunately was killed in 1779 during a fight with autochthones of the Sandwich Islands (name given by Cook himself one year before).
Other pages in the same section