Until recently, several theories attempted to solve the mystery of the South Pacific islands settlements and more precisely of the Polynesian people. Different and sometimes surprising theories were conceived. Did Polynesians come from the East or the West? Some thought that the Polynesian people issued from different places on earth and others thought they came from a continent which sank.
The "sunk continent" theory
G. FORSTER, naturalist aboard the 3rd voyage of Cook, believed that the people of Oceania had appeared on a continent–called Mu–now under water, with only a few mountains emerging from the ocean. This hypothesis was continued by Dumont D'Urville in 1841.
Since then, this idea was abandoned by the scientific community which proved that 1) this hypothetical continent had never existed and 2) simultaneous human appearance on several points of the globe was highly improbable.
The Amerindian theory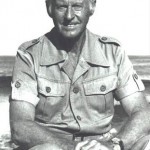 Although refuted in 1846 by HALE and in 1866 by A. QUATREFAGES -who based their studies on customs, linguistic, archaeological and physical characteristics-
the Norwegian anthropologist and explorer Thor HEYERDAHL tried to prove that thePolynesian people originated from South America with his famous expedition aboard theKon Tiki raft which, in 1947, traveled from Callao (Peru) to Rangiroa (Tuamotus) in 101 days.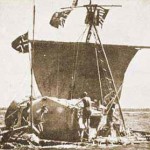 In 1963, this theory was also developed by the Mormon community in order to prove the "Mormon diffusion". They published a study demonstrating the possibilities of a colonization of Polynesia by ancient Americans.
Cependant cette théorie avait déjà été réfutée en 1846 par Hale, et en 1866 par Armand de Quatrefages, grâce à des arguments linguistiques et archéologiques, mais aussi liés aux caractéristiques physiques, mœurs et coutumes. Cette thèse a elle aussi été abandonnée.
Today, this theory has also been abandoned. Due to linguistic similarities, winds, fauna (dogs, pigs) and flora, the most widely accepted theory today states that the settlements of the Polynesian islands by human beings came from South East Asia.
Settlements of the islands
Migrations were accomplished in successive steps made over several centuries. The first wave of immigrants to the Pacific islands took place during the last ice-age period (110,000 – 8,000 BC).
It is believed that Australia, Tasmania and New Guinea would have received the first Papuan-language migrations from Southeast Asia around 53,000 to 35,000 BC. Then around 4,000 BC, Austronesia-language people from the Taiwan region got mixed with the previous ones. This mix evolved to what is known as the "lapita" culture. This lapita culture is characterized by a particular type of finely decorated ceramics.
From 1600-1500 BC, this population started to spread to Micronesia (Marianne, Marshall archipelagos) and then to Melanesia (Papua-New Guinea, Salomon islands) until it reached occidental Polynesia (Fiji, Tonga, Samoa) around 1,000 BC. One more century was necessary to reach the rest of Polynesia. Scientists believe today thatall central archipelagos (Cook, Marquesas, and Society) were populated at the same time. Though it is in the Marquesas islands that the oldest vestiges of this civilization were discovered (dated 150 BC by R.C. SUGGS) the Marquesas Islands are still considered today as the starting point for eastern Polynesia settlements.
From these archipelagos, a new migration wave started, settling the Hawaiian Islands (USA) around 300-400 AD, Easter Island (Chile) from 400-500 AD, and finally New Zealand from 700-800 AD.
The Austral archipelago was colonized around year 950 AD while the Tuamotu and Gambier migrations are dated around the 12th century (tests made with Carbon 14).
Navigation
Settlements of Polynesian islands are deeply related to the art of navigation and to the sea, sky and stars knowledge. Although oral tradition does not tell much on this issue, we know that the Polynesian knowledge of navigation was mostly based on observation : use of winds, marine currents, sky, birds migrations …
For a long time, Polynesian settlements were attributed to luck as sailors did not have any orientation tools (like a compass). But an exceptional knowledge of their natural environment along with an accurate sense of observation made those trips in outrigger canoes with triangular sails possible. Moreover, positions and names of stars were memorized in songs ; it has been proven that their knowledge on this issue was accurate and reliable.
It is also established that a difference exists between navigating in tempered and in tropical zones. In a tropical area, it is possible to navigate with only the help of the stars. As the equatorial sky features large trails of stars, a sailor could link the island he whished to reach with a constellation.
All those migrations made the Polynesian people famous sailors. Their attachment to the ocean is of course still very much alive today.
Sources :
- Nouveau regard sur les migrations polynésiennes, by R. ARGOT
- Ministery of Culture – French Polynesia
- L'ile de Paques est-elle l'île aux bêtises ? (Article by Michel ORLIAC)
- The Tahiti Handbook – Te Fenua, by Jean Louis SAQUET
Other pages in the same section