You will find below a guide dedicated to the Tahitian black pearl, also called "Pearl of Tahiti". It includes all the information you need to carefully select the jewels you will find while traveling in Tahiti and her islands.
I – Introduction
Tahiti cultured pearls are pearl concretions that are secreted inside the black-lipped Pinctada Margaritifera, species of pearl oysters cultivated mainly in the lagoons of French Polynesia. They consist of thick pearly layers containing organic substances and calcium carbonate in the form of aragonite.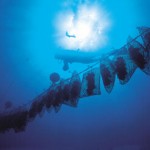 In French Polynesia, the trade designation "Tahiti Cultured Pearl" is reserved exclusively for cultured pearls obtained from a grafting of the locally cultivated Pinctada Margaritifera pearl oyster. Such pearls have a continuous pearly layer over at least 80% of their surface and do not reveal either the nucleus or the seed of the nucleus.Tahiti cultured pearls are characterized by a diversity of shapes, diameters, qualities and several shades of natural colors, ranging from pale gray to anthracite black.
Any other merchandise that does not satisfy such criteria may not be called a "Tahiti Cultured Pearl" and will be deemed a rejected pearl.
Rejected pearls official criteria :
pearls whose milky loss of normal pigmentation marks over more than 20% of its surface
pearls with no luster, resulting in a dull surface
pearls with deep imperfections on more than half of their surface
pearls with both deep and light imperfections on more than half of their surface.
II - Diameters
When harvesting Tahiti cultured pearls, the pearl farmer performs an initial sorting, discarding all the rejects. He then makes a selection of pearls based on their diameter, shape and quality.

Pearls are classified from millimeter to millimeter and measured by the shortest diameter, which generally ranges between 8 and 14mm. This is done by sorting them through sieves. Some pearls reach 16mm and very exceptionally 18mm.
To date, the record diameter is 21mm.
III - Shapes
Four basic shapes are defined at the production stage :
Round and semi-round
Semi-baroque
Ringed
Baroque.
For some jewelry makers, shape is purely a design element, be it the sensuous curves of the drop or the flowing free-form lines of many baroque shapes. For such artists, all shapes that inspire them share aesthetic equality.
Most designers agree it is difficult to favor one kind of shape over another. A New York designer once said: "A pearl that looks homely seen loose will be transformed into a thing of beauty if placed in the right setting."
Round pearls are almost perfect spheres whose diameter variation rate is less than 2%. The round pearl is the most sought after and the most rare of Tahiti cultured pearls.

When a pearl is allowed two years to grow inside an oyster, the chances of even, perfectly spherical nacre accumulation are a long shot. One experienced seller of fine Tahiti pearls says true rounds rarely account for more than 10% of a Tahitian pearl farm's crop. And 5% is more the norm.
The percentage gets even smaller, he adds, when taking into account the many round pearls that are so heavily blemished they are unsellable. No wonder, then, that all other things being equal, fine-quality round Tahitian cultured pearls are the rarest and most expensive of the breed.
However, more plentiful semi-rounds and button shapes can give the look of round shapes for less money, especially when these pearls are set in jewellery. In such cases, slight deviations from round and even noticeable elongation can be concealed or, at the very least, masked.
Because Tahitian pearls are most commonly used in jewellery, the low incidence of rounds is not considered a drawback. On the contrary, the wide variety of affordable fancy shapes is a big drawing card for jewellers who specialize in them.
Semi-round pearls are slightly imperfect spheres whose diameter variation rate is greater than 2% but less than 5%.

Toutefois, les perles de forme semi-ronde peuvent donner le même résultat une fois montées sur un apprêt que les perles rondes et ce, pour un prix moins élevé. Dans de tels cas, les légères imperfections et même les élongations visibles peuvent être bien dissimulées voire complètement masquées.
Semi-baroque pearls exhibit at least one axis of rotation and are subdivided into four shapes: drop, button, pear and oval.
Ringed, or circled pearls are characterized by regular streaks, rings or grooves that are perpendicular to an axis of rotation and cover more than a third of the pearl's surface. Ringed pearls, which generally account for 25-30% of a Tahiti cultured pearl harvest, seem to fire the imaginations of many designers.

No one knows why "circle pearls" occur so often in harvests. Perhaps it is the species of oyster used to grow them. Whatever the cause of ringed pearls, they often compensate for this characteristic with pronounced color play and multiple hues.
Designers often take advantage of their low prices and high appeal by setting bands of precious metal accented with diamonds and colored stones into their grooves. These bands subdivide the pearl into contrasting spheres of color.
Baroque pearls do not have any axis of rotation. Given the transforming impact of design on the look of a pearl, it is hardly surprising that black pearl specialists usually admire drop and baroque shapes.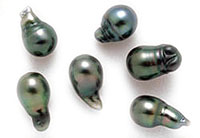 IV -  Quality criteria
This affects the durability and sometimes the beauty of a  Tahiti cultured pearl.
During processing, handling and wearing, a pearl's relatively soft and delicate nacre inevitably suffers some abrasion. If a cultured pearl starts off with a thick coating of nacre (and gets reasonable care), the abrasion will not affect its beauty for many years. If, however, the pearl has a thin nacre coating (or is carelessly treated), its nacre will soon wear away, exposing the nucleus.
This is the quality of the light reflections from the pearl's surface. Pearls are said to have high, or very high, luster when the reflections are bright and sharp. When the light reflections are weak and fuzzy (or diffused), the pearls are described as dull.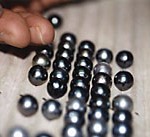 The Tahiti cultured pearl rivals anything grown in Japan for the sharpness and intensity of reflected light from a pearl's surface. In fact, pearls from French Polynesia often possess such a mirror-like finish and radiant brilliance that their overall appearance is likened to that of very shiny metallic objects, such as ball bearings.
The only problem with such an analogy is that it suggests a cold, steely beauty. In reality, lustrous Tahiti pearls have a warmth to them -even when their surfaces gleam as brightly as a dress shoe.
No wonder, then, that luster is one of the most prized factors of Tahitian pearl beauty. And rightly so. Most jewellers probably don't know that the typically high-gloss finish of the Tahitian pearl is something unique to the cultured variety of this gem.
The result is that the degree of preferred luster varies from fine jeweller to fine jeweller. Some, recalling that natural black pearls generally had for more of a matte finish, prefer Tahitian cultured pearls with soft, satiny surfaces reminiscent of the natural variety. Others prefer the high-glow pearls at which Tahiti excels. If lustre is one of the features that sets apart the cultured from the natural black pearl, they'll tell you, this should be played up, not down.
Still other jewellers who sell a wide variety of Tahitian cultured pearls take a pragmatic, best-of-both worlds approach. Regardless, the luster of the Tahitian pearls is just like their color–all natural.
Pearl dealers talk about the degree to which a pearl's skin is free of blemish as "spotting", a very negative term for a very common pearl feature.
Pearl dealers prefer the neutral term "surface" as a way of discussing -or even rating- the presence or absence of imperfections in pearls. In this regard, it is the pearl world equivalent of "clarity".
Tahiti cultured pearl farmers generally use four ratings for surface quality A, B, C and D.

Quality A pearls are entirely smooth or are marred with just one or two tiny ripples or indentations (often hidden later by a drill hole) that are visible to the naked eye but are confined to less than 10% of the surface. They all have a very good luster. But a nearly negligible number of pearls merit this rating. Their extreme rarity also adds significantly to their cost. For the most part, jewellers will see pearls that deserve grades of B or lower.
Quality B pearls are those with some imperfections concentrated over less than a third of their surface and with a beautiful or average luster.
Quality C pearls are those with light concentrations of imperfections over less than two-thirds of their surface and an average luster. Given the girth of most Tahitian pearls, plus their dark tones and/or color play, gem stones used with C graded Tahitian pearls are still often quite attractive.
Quality D pearls are pearls with light imperfections over more than two-thirds of their surface and no deep imperfections; or quality D pearls are those with deep concentrations over less than half of their surface and with a soft luster. This is the lowest grade of all. There are many pearl dealers, jewellry designers and jewellers who believe such unsightly pearls should be labeled "rejection goods" and barred from commerce.
V - Colors
Generally the darker the Tahitian black pearl, the more valuable it is. The finest black pearls also have a green overtone that is called "peacock green". A solid black pearl with no overtone is considered undesirable and may cost as much as 50% less than one of similar quality with green overtones. Pearls with muddy colors are also viewed as undesirable.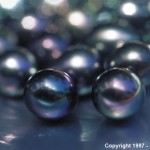 Other overtone colors on black pearls are pink, blue, gold, silver and a reddish purple called "aubergine", which is French for the word eggplant. These overtones may be present in a variety of combinations and are considered a plus factor.
Black pearls also have a wide range of body colors, the predominant basic color of a pearl–black, gray, blue, green and brown.
What Causes Pearl Color?
A lot of pearl farmers wish they had the full answer to that question. Then they could control the color of the pearls they cultivate. As it is, they have only part answers or clues, which include the following:
The type of host oyster. Oysters vary in their potential to produce certain colored pearls. For example, black pearls are cultivated in the black-lipped oyster because other oysters do not produce pearls of the same type. Even though pearl farmers know the black-lipped oyster is essential to the cultivation of Tahitian black pearls, they don't know yet how to consistently make it produce a specific color. The pearl may end up being white or a variety of shades of gray as well as black, bronze, greenish or purplish.
The quality of the nacre. If the nacre is very thin, the color will look milky and lack overtone tints. Besides being affected by the number of layers of nacre, pearl color is affected by the thickness of each layer.
The environment they are grown in. It's theorized that there may be trace elements in the water that affect the color.
The color of the tissue that is inserted with the bead nucleus. This involves the color of tissue from another oyster's mantle (the part of the oyster that secrets pearl nacre) that has to be implanted with the shell bead for a cultured pearl to grow.
What Color is Best for You?
Most pearl experts agree that a buyer's color choice should be primarily based on what will look good on the person who will wear the pearls. Some sales persons, however, give color advice by suggesting what's popular in specific geographical areas.
But you will also want to know how the color affects the price of pearls.
Copyright © GIE Perles de Tahiti images
Copyright © Pacific-image
Other pages in the same section