Many Polynesian ancestral sports are issued of the transformation of a quotidian gesture in a show or a sports competition developed on simple rules.
Canoe races (va'a races)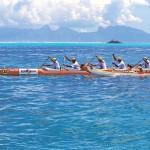 Canoe races must be the more traditional of Polynesian sports. This sport is an essential element of Polynesian life and without canoes, Polynesian islands won't have been inhabited (see settlements). Double canoes with sails could transport up to 30 people on huge distances.
Va'a races, in lagoons or off-shore, are the more evident testimony of the link that unites Polynesians to the sea. There are different types of canoe races : sails canoes regattas and races, lagoon races with different types of canoes (V3, V6,V16 -the number corresponds to the boatmen number) and deep-sea races with 6 boatmen (V6).
The most important of these races is the Hawaiki Nui Va'a organized every year in last October, early November. This big race lasts 3 days and the 50 teams that are involved start in Huahine and finish in Bora Bora after two stops in Raiatea and Tahaa. An other famous race goes off during the Heiva in July and consists in crossing the channel between Tahiti and Moorea, going round Moorea and coming back to Tahiti.
Surf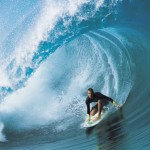 Other ancestral and very popular sport is surf that was invented in Polynesia a long time ago. Actually, in 1769 James Cook already related in his work entitledExplorations of Captain James Cook that this sport was practiced in our islands and that Tahitians enjoyed it very much.
At this time, three board types already existed and board surf shaping had to respect all the steps of a peculiar ceremony since it was something sacred. Moreover, surf was a sport practiced on reserved beaches and ran by strict rules enacted by the aristocracy. Then, when time went by, common people could also give themselves up to surf, on one condition : respect tradition.
Tahiti and her islands offer many surf spots, among which the very famous Tehaupoo wave.
Stone lifting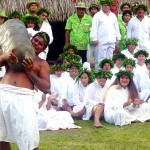 This ancestral discipline takes its origin in Rurutu island where is perpetuated every year the Amoraa Ofae. This trial of strength and rapidity consists for the athlete -who wear the very famous pareu– in lifting a 110 to144 kg stone without any hold. The mark takes in account different factors such as the rapidity of execution, the candidate's appearance, the size and weight proportion between the stone and the athlete.
Javelin throwing
It has become today a sport display which current throwing method comes from the Paumotu, who are the true masters of the discipline. The athletes are placed 22m away from a 7.5m high mate on which top a coconut is used as a target. The athletes have 7min to throw away approximately 10 javelins and the best mark is given to the highest javelin stuck in the coconut.
Fruits carrier races
This discipline is a very spectacular competition, really appreciated by the locals who can see it in Papeete streets during the Heiva. Rub with monoi and simply dressed in a pareu in the purest Tahitian tradition, fruits carriers run a two-km race with two loads fixed at the extremities of a bamboo stick and made of 30 to 50 kg of fruits. The mark takes in account the athletes rapidity and endurance as well as the beauty and the originality of the load composition. This fruits transportation method is still used in Tahiti during the orange harvest period in June.
Copra preparation
This activity needs a lot of dexterity since it is not without danger. Every team is composed of 3 candidates -wearing the traditional pareu- who have to split, open, extract and put in bags the almond of approximately 200 coconuts in 3 min with the only help of an axe, a curved blade and hessian bags. This competition pays tribute to the coconut tree, also called "life tree" since it is the Polynesian odd-job tree (food, construction, products likemonoi…).
Coconut tree climbing
During the Heiva, you will be able to see athletes climbing to the top of 20m high coconut trees in a minimum of time while their feet are linked with a creeper. Some of them climb to the top in a few seconds !
Sources:
Ministère de la culture de Polynésie française
La découverte de Tahiti – Christian BUCHET