For a long time, Polynesian stamps have been ignored by collectors due to a too large number of printed samples. But thanks to a stricter philatelic policy involving better techniques and graphism improvements,philately is today recognized worldwide for the beauty of its stamps.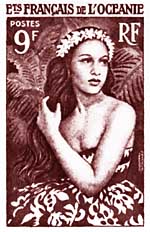 The fist prize of the French Art of Philately was attributed in 1955 to one of the first stamps issued by the Etablissements Francais de l'Océnanie (E.F.O.), stamp featuring a young vahine of Bora Bora (see photo). In 1957, E.F.O. became French Polynesia. On November 3, 1958, this new institutional status was expressed throughout a new serial of stamps (vahine playing guitar or offering seashells).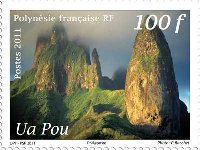 That date plays an important role in Polynesian philately not only because the sales of stamps represented extra revenues for the Post Office but also for the promotional support it brought to the country. Apart some rare exceptions, most selected themes are related to Polynesian culture and patrimony. For exemple, a stamp representing the Market of Papeete was launched on August 30, 2002.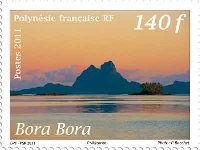 The most expensive stamp (current estimation is  550,000 xpf) was issued in 1973 to commemorate a special event -  "Deuxièmes journées de la Médecine" – and it carries the post office stamp. For the little story, because this event was cancelled, all those stamps were supposed to be destroyed. But 50 of them "survived" and were sold by mistake. Only one had the stamp on…
The post office located on Papeete waterfront (Tahiti) near the Bougainville park (2 mn walk from Vaima Shopping Center) offers a corner specialized in collection stamps and phone cards.
Phone cards
The O.P.T. (Post Office) is selling phone cards since 1996. The first one is dated July 15, 1996 and it represents a painting of Jacques BOULLAIRE. This phone card was called "En attendant l'office devant le temple" (ie : "Awaiting Church service in front of the temple").
OPTCARD
L'OPT is now proposing pre paid phone cards called OPTcards.
Sources:
- Centre philatélique de Tahiti - www.tahitiphilatelie.com
- The Tahiti Handbook – Te fenua, by Jean Louis SAQUET
- DIXIT, ed. 1999
Other pages in the same section