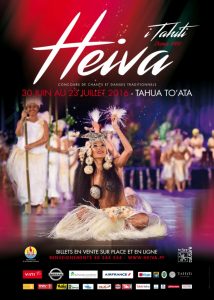 The Heiva, literally "celebration" has already started in Bora Bora and is poised to conquer Papeete at the To'ata square transformed into vast scenes in open air. A grand event significant to the Polynesians, the Heiva is the perfect opportunity for visitors to take the pulse of Polynesia, for a month following the frantic pace of energetic otéas.
For more than a century, the Heiva marks the height of the Polynesian cultural year, Turai (July Tahitian). The best dance groups that have been training for months, with grueling weekly rehearsals, to give their best efforts to win the coveted title of best solo dancer, group or best costume. The result is the sum of all physical and artistic venture: a festival of colors and movements in perfect synchronization, orchestrated by powerful percussions … an amazing show!
Bora Bora in all its splendour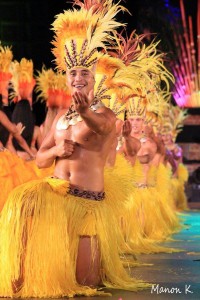 Each year, Bora Bora, the Pearl of the Pacific commences the Heiva festival. In the central square of Vaitape, next to the port, the ephemeral restaurants with roofs and walls of pandanus, sprout like mushrooms for the festival, while a huge white sandy dance floor is set as a stage to soon host the best bands of all surrounding districts. From June 14 to July 24 it is "Heiva i Bora Bora!"
At each performance, the stands fill up fast and it is difficult to make their way around the great white sandy rectangle located in the heart of Vaitape. Most of the spectators come to watch the challenge: the otea. Often the most impressive, the otea is also the most physical of Polynesian traditional dances, directly inspired from warlike processions.
Local percussions at the level of a professional instrument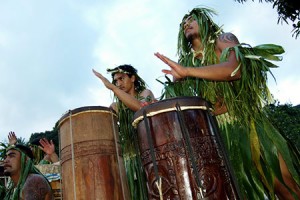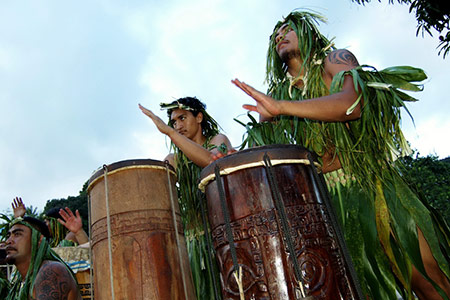 To experience a traditional Tahitian dance performance, you will have to see it LIVE. With large groups of sometimes up to thirty percussionists, like any musical concert, a live performance is beyond compare! The easiest is therefore to discover them live on site.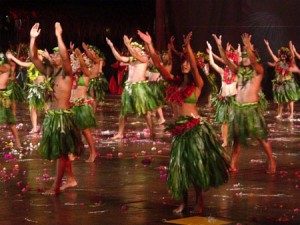 One is first impressed by the number of participants. As many as a hundred dancers take center stage. Everything is done to flatter the eye with great fanfare of dazzling vegetal costumes, evoking the theme. Dancers with sculptured bodies and glistening with sweat gyrate in all of their splendor for the beauty of the art. And to add to the passion of the movements, percussions punctuate each movement. The sound of the toere, a large piece of wood hollowed out through a narrow slot that is beat with thick sticks, just to warn you of the imminent start of the show. The pahu drums which give out low bass and round sounds are quick to answer them, seeming to defy them in velocity and power. Unquestionably, it is the percussion that give here the rythmn. And this single note one feels, moves you to the core. To witness a Heiva is to live it!
Ready to experience this cultural experience in Bora Bora? Discover our special offer at the Meridien hotel!