If the blue lagoons have ever since built the fame of Tahiti and her islands, one will soon discover most travel brochures change their tune. A new trend is gaining popularity in Tahiti and its islands: Hiking, notably in French Polynesia where the potential in this field is huge.

Only a few months ago, Jimmy left everything: his secure job as a teacher and civil servant as well as a comfortable 2600 euros per month salary for the lush Tahitian valleys. Currently in training for a BPA (Certified professional specialized in hiking) Jimmy and his dad, also an experienced guide of many years, started their mountain guide enterprise, Aito Rando. Today this very promising sector is shared by six other similar companies, three nature associations and fifteen professional mountain guides for French Polynesia.
Hiking fever
The lack of public funding in this sector partly explains the lack of interest, of which the Polynesian highlands have long suffered. "Very often, the mountain land is private and access becomes quite complicated to plan out genuine hiking trails," as Jimmy also explains with regret. But gradually, attitudes are changing and the sport is gaining appeal.
It all began with the cross country races or "raids", where the courses traverse the rugged mountain trails. "For the last ten years this activity has been sprouting up like mushrooms more and more in Tahiti and in the islands, says Jimmy. Moorea, Raiatea, Tahaa, Bora Bora, and even Tubuai and Nuku Hiva … There is one race at least every month now! "Inadvertently, the Polynesians are gradually reclaiming their valleys and are increasingly taking an interest in hiking.
Uncharted territories to explore

"People have not yet realized the full potential of the sport, Jimmy claims. In fact, they only realize the extent of the possibilities of existing trails when they come hiking with us. One should realize that, today only 20% of the island is explored, the rest is still virgin land, unexplored for centuries! "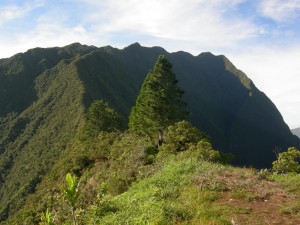 With 220 valleys and a dozen tributaries each, Tahiti, by itself, is an incredible hiking playground. Lush valleys, but also magnificent peaks, offering exceptional views of each curve on the lagoon, the trans-island crossings … the hiking program is very rich.
The guides who have learned to make people discover this beauty and communicate their knowledge, even with little familiarity, experience growing success. "It is a real hit for us", says Jimmy. "We even have to turn a lot of people away towards our competitors!"
Where to start : The three best hikes in Tahiti …
Not only are the Lavatubes, Te Pari, the Aorai and Fataua, the four most popular hikes in Tahiti. For Jimmy, the trek that truly represents the island of Tahiti is in the valleys between waterfalls and jungle.
Jimmy's TOP 3 trails :
1. Faraura (Hitiaa common) with four beautiful waterfalls, including a circle trail of 180 meters high.
2. Vaihi (Hitiaa common): a small valley with twelve waterfalls in rows, between 5 and 30 meters. A true feel of virgin jungle with rappelling involved.
3. Faananu (Tiarei common): popular hike, with 17 descents into the canyon, with the opportunity to make a nice loop.
Recommended family hikes:
Te Faaiti in the Papenoo Valley, one of the two territorial parks in French Polynesia, "the best of the best of family hikes".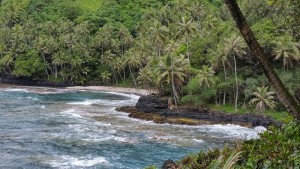 Important: hiking in Polynesia is not always a health walk. Good physical condition and the presence of a guide are strongly recommended.
Rates hikes Tahiti between 5000 xpf and 10,000xpf for the full day as guides (Possibility of lower rates per person depending on the number in the party)