The taste of the Islands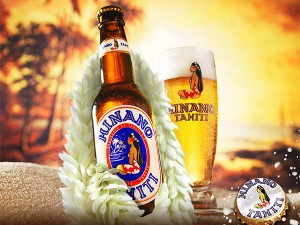 Hinano, is traditionally the name usually given by Polynesians to the Pandanus flowers. But for some years now, it has also been the brand name of the famous Tahitian beer. Indeed, since 1955, the word Hinano is more known as a brand of beer produced in Tahiti. Sold by the "Brasserie de Tahiti », the Hinano beer is an initiative from its CEO, Yves Martin. He decided in the fifties to launch his own beer brewed in French Polynesia. He named his product "Hinano" because it was an easy Tahitian name, pronounceable in all languages. This local beer was launched during the celebration of Tiurai (july festival) in 1955. Since its launch, the brand took the road of success.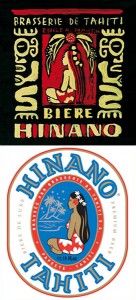 The Hinano brand used a logo drawn by the Swedish painter Pierre HEYMAN. This illustration represents the "vahine", the Polynesian woman. This logo has evolved over the years to offer a modern design still using the symbol of the vahine. The first beers were sold in 65cl glass bottles and then others formats were introduced in the market as the can. The alcohol degree of Hinano was initially set to 4°, this degree increased to 5° in 1990. During the same year, the Hinano's quality was internationally recognized: the beer received the gold medal at the 29th World Selection of Beer in Luxembourg. Therefore, the beer has been exported to Japan and France. In 1993, Hinano received a second Gold medal in Brussels. Today, Hinano is also available in Europe, USA and South America.
Since its beginnings, the Hinano brand has participated in many events. It began in 1974 by sponsoring the Tahiti Hobbie cat World Championship. In 1990, the brand sponsored the election of Miss Tahiti. Today, Hinano is a major partner for big events such as the famous "Hawaiki Nui Va'a" Polynesian canoe race or the famous "Heiva" cultural dance competition.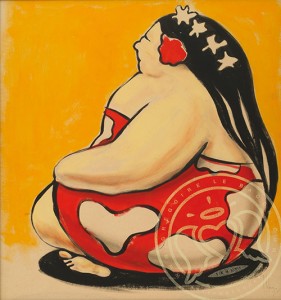 The Hinano is culturally ingrained in the Polynesian society such as the Guinness in Ireland or the Foster's in Australia.  It has become a symbol of our islands. Furthermore, it participated in exporting our image throughout the world. Hinano has also become an inspiring brand: a local singer Andy TUPAIA interpreted a song called "Oe Hinano" and a local painter (Gregoire Le Bacon) diverted the Hinano logo in his paintings. We can also note that the Hinano beer made a few appearances on the cinema's screens as in the french movie "Tendre voyou" with Jean-Paul Belmondo.
The Hinano brand has experienced such important success that many other products have been developed under the same brand name. Nowadays, Hinano is also known as a clothing line and sports equipment brand. Whether you are in France or in the United States, you can find a Hinano beer in your local supermarket to enjoy a little taste of our islands. Manuia! Cheers!
Alcohol abuse is dangerous for health • consume with moderation