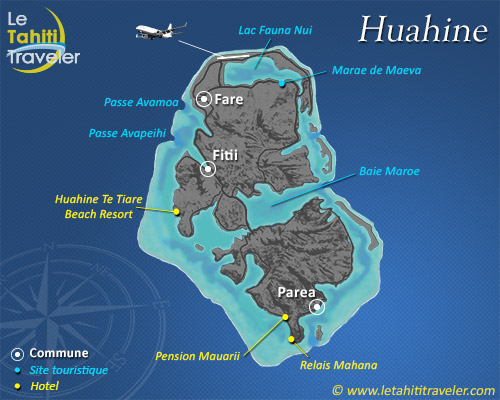 Huahine is for sure the wildest and most secretive island of the Society Islands thanks to its luxuriant nature and its past full of myths and legends. Located 30 minutes away from Tahiti by plane, it is also the nearest one from the main island of this archipelago. Huahine would draw its name from hua, sex/gender and hine, woman. It is said that this name would refer to a pregnant woman. Furthermore, some think that the Tavaiura Mount looks like a lying woman face with a roundness belly. Formerly, the island was called Matairea which means « cheerful breeze ». At his time, Captain Cook named it « hermosa » which means « beautiful ». This island appears like a feminine and attractive island whose inhabitants are proud of.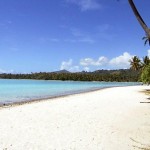 Huahine is composed by two islands: Huahine Nui (big Huahine) in the North and Huahine Iti (small Huahine) in the South separated by a narrow channel. Both offer a luxuriant vegetation, white sandy beaches, small coves hidden from the eyes, coral desert islets, a lagoon with turquoise colours and much diversified food and fruit-producing cultivation.
A real haven of peace where calm and quiet reign. Nothing better to recharge one's batteries!
Moreover, the local population is friendly and welcoming.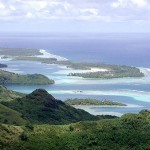 Huahine can also pride itself on possessing one of the widest and best preservedarchaeological site of the Society Islands: the Maeva marae, a whole of several important marae (sacrifices sites for gods) located at the bottom of the Mouatapu Mount and near the Fauna Nui laguna. Legends hang over this island lusted after by Hiro, god of thieves, and adopted by artists.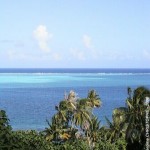 The island has much more touristic and cultural interests such as the local craft industry, fish parks, authentic fishermen villages, the visit to the sacred eels of Faaie or nice walks in magnificent gardens for the lovers of exotic plants and flowers.
On the lagoon side, surfers will enjoy the island as it offers excellent surf sites. Divers can discover as their please the underwater wildlife (falling coral, caves full of fish, coral gardens…). Finally, several lagoon excursions are proposed by the nautical activities providers.
Every year in October, the Hawaiki Nui Va'a race, which is the biggest canoe race of the South Pacific, starts from Huahine. Not to miss if the opportunity is there!