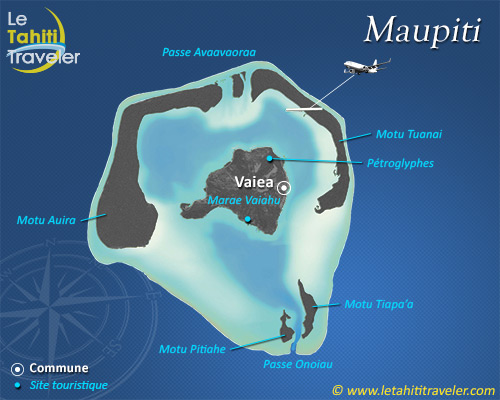 Maupiti, anciently called Maurua in Polynesian, is the westernmost high island of the Society archipelago and also the smallest, but is often considered as one of the most beautiful islands of the South Seas. Located at 315km away from Tahiti (only 40 km away from Bora Bora), it is composed of a little green emerauld massif, mount Teurafaatui – sometimes called Nuupure – that reaches 380 meters high (1,250 feet) and barely occupies 13,5 square kilometers. It emerges from a shallow lagoon with transparent waters surrounded by long motu(islets) with beautiful white sand beaches. The only navigable pass of Onoiau is squeezed between motu Pitiahe and motu Tiapa'a at the south of the island.
Like Bora Bora, this high island is slowly entering in its atoll phase, leaving white sandbanks in the middle of the lagoon. Still saved from tourism, you will not find any deluxe resorts there but traditional family pensions. Nor will you find restaurants, discos or bars in Maupiti but only true relaxation, calm and peace like it used to be a few decades ago in most Polynesian islands. Postcard landscapes will finally become reality … you reached paradise !
Once used to the torpor any tourist feels when getting off the plane, you will be able to appreciate thearcheological richness spread in the vegetation or on the many motu around (Auira, Tiapaa, and speciallyPaeao) : marae (one belonged to the Tefareatii chiefs), petroglyphs representing turtles in Haranae valley, mountTerama fortifications, as well as 16 graves dated 850 A.D. on motu Paeao. Those last ones are the oldest vestiges discovered in the Society islands. Objects taken out from those graves (fish-hook, adzes … ), similar to some others found in New Zealand, participated to the accreditation of the Polynesian migrations theory.
A 3-hour walk to the peak of mount Teurafaatui will let you admire an unforgettable panorama over the lagoon with Bora Bora island in the background and when the weather permits it even Raiatea and Tahaa. You will also feel what the Polynesian way of life is like during your island tour (2 hours by foot) and enjoy the wonderful beach of Tereia also called the "Lovers beach" (beach lovers, don't miss it !!) located opposite side of Vaiea village that stretches as far as motu Auira.
Maupiti lagoon also features amazing snorkeling spots. Check the one between motu Tiapaa and Pitiahe (beware of currents !)
Maupiti was discovered by Dutch Roggeveen in 1722, a long time before Tahiti, but it stayed forgotten by Europeans for many years. Maupiti remained independent until its union with Bora Bora at the beginning of the 19th century. Protestantism was then slowly introduced.
In 1997, the island was devastated by Osea cyclone.
Nowadays, Maupiti lives mostly from watermelon and coprah agriculture produced on motu. It is accessible by plane from Papeete (Air Tahiti) with 3 weekly flights via Bora Bora or Raiatea. A shuttle boat – the Maupiti Express – linking Bora Bora to Maupiti is also available twice a week.
Don't forget to withdraw money (cash) before you go to Maupiti as the only bank is open only when its representative comes by. So you could enjoy the delicious dishes offered by the restaurant snack of Tarona village which also features a bar on the Tereia beach or taste fish dishes proposed by the snack "Chez Emile".