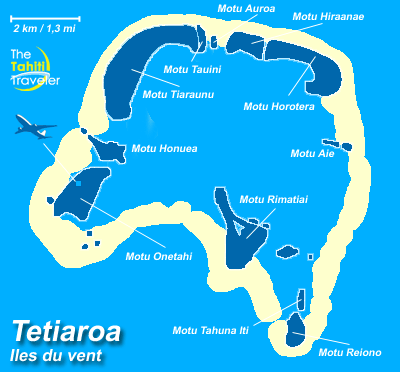 Attention ! All flights to Tetiaroa have been suspended by the French authorities for security reasons since February 2004.
The only solution to go there is a day excursion on sailing catamarans that are based in the Marina of Papeete (waterfront).
A new luxury hotel, The Brando, should open in 2014.
Located 42 km north of Tahiti (15 mn by plane), Tetiaroa is the unique atoll (low island) of the Society Islands. Its crystal-clear lagoon is circled by 13 white sand islets. Totally close to the ocean, its reef barrier does not offer a pass to enter the lagoon by boat.
Those 6 square kilometres with a population of 50 persons really constitute a little paradise on earth, with a rich and preserved land and aquatic fauna as well asexceptional purple coral gardens. This natural reserve is currently subject to many scientific studies.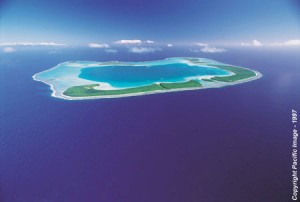 The atoll and more specifically motu Tahuna Iti (called the "Island of Birds") is also a natural reserve for sea birds (frigate, gannets, phaetons, brown and red-footed boobies), and is used for reproduction purposes …
Many archaeological sites have been discovered on Tetiaroa: marae, paepae, an archery platform, gates and and taro holes.
During the pre-European period, the atoll was called "Teturoa" or "Tetuaroa". It became successively the summer residence of  the ari'i (big chiefs) of Arue (district of Tahiti) and of the royal Pomare family – on motu Rimatuu – until it was abandoned by Queen Pomare IV. According to the legend, Tetiaroa was used to hide the royal treasures.
In 1789, William BLIGH was the first European to visit the island while seeking for the Bounty mutineers.
In 1904, the royal family gave in present the island of Tetiaroa to Dr. Johnston Walter Williams (1874 – 1937), the only dentist of Tahiti. He became later Consul of England from 1916 to 1935.
In 1965, famous actor Marlon BRANDO "acquired" the atoll for 99 years (the lagoon remaining the property of the Marine Territory) after was shooted the movie Mutiny of the Bounty where he played the role of Christian FLETCHER. He built an airstrip on motu Onetahi as well as an hotel managed, at that time, by his Tahitian spouse Tarita, also starring on his side in the Mutiny of the Bounty.
Today, Tetiaroa – that can be accessed only by boat since February 2004 – has successfully managed to maintain its exceptional natural calm and beauty, leaving the visitors with unforgettable souvenirs.