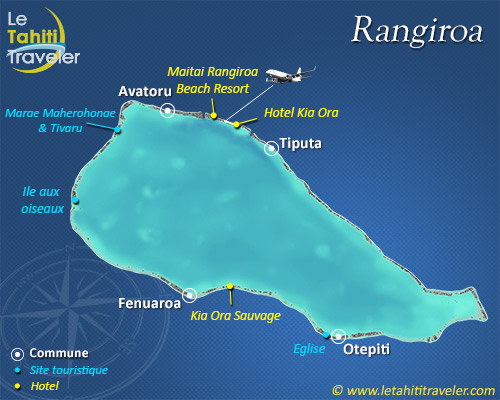 Rairoa, « huge sky », is the old Paumotu name of the Rangiroa's atoll. This name features well the size of this atoll of the Tuamotu archipelago. In fact, Rangiroa is the biggest atoll of French Polynesia and the second one in the world. With 75 km long and 25 km wide, it could contain the entire island of Tahiti in its center. The air shuttle lasts one hour from Papeete. The 3 016 inhabitants live in the two main villages of Avatoru and Tiputa that are two islets separated by a pass. The rest of the atoll is almost uninhabited except where there are coconut plantations where the coprah is cultivated (the sector). The inhabitants go there to work for a few days during the week and then spend the rest of their time at the village.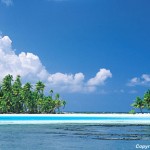 Rangiroa is a real natural aquarium, classified by Captain Cousteau as one of the first most beautiful and elaborated site in the world. Several excursions are proposed to admire the beauty of the stunning colours of the lagoon's waters: discovery on board of a glass bottom boat, classic and well-known excursion to the "lagon bleu" that represents the Polynesian dream, excursion to the reefs' island and pink sands to look up to coral and its residues with pink glint depending on the sun inclines. It is also possible to go to the bird island to quietly observe interesting and sometimes rare species in their natural environment.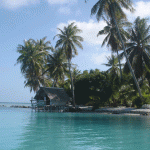 For scuba divers, school of surgeon fishes, goatfishes, napoleons, ballet of manta or spotted rays, giant jacks or barracudas as well as various types of sharks (grey, white/ black tip, hammerhead) and dolphins will be there for meeting. The abundance and diversity of the submarine floors allow the people who have the chance to discover them to live unforgettable moments.
There is still to mention the pearl production that is, with tourism and fishing, part of the daily life of the atoll's inhabitants. It is possible to visit the Gauguin's pearl farm that will reveal you the mysteries of the production of the most beautiful pearls of Tahiti and its islands.
Finally, for the curious and wine lovers, it is possible to discover a unique world vineyard located in the middle of a coconut plantation, on the lagoon side, and then of course taste its production.
Rangiroa is a real paradise for farniente and contemplation but also offers a lot to do….