Tahiti, island paradise, shares with us some new treasures. If you go through the town of Papeete, you will probably see some unexpected Streets art, huge colorful graffiti mural.
Graffiti, so far not well knew and often likened to the "Tags" and considered like an underground activity, from now on, take part to the Polynesian culture and contribute to it.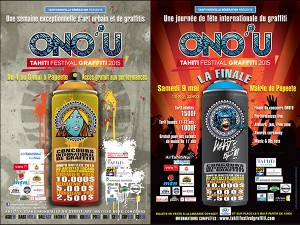 Everything has begun in Papeete city, in 2014, with Ono'u, the first edition of the international graffiti festival.
The « ONO'U » event, express « the meeting of colors», in fact it's also the meeting of top international urban artists in the middle of the Pacific ocean , and the occasion to let them free to express themselves by their street art knowledge.
The ONO'U festival was created and supported by a young Polynesian company. Ono'u 2015 is the second edition, a big challenge after the great success of the first Ono'u festival.
This year, 30 artists have been selected to participate in the ONO'U Battles in Tahiti. ( 25 international artists and 5 Tahitian artists )
The « battles Ono'u » challenge start with the qualification of 10 artists, and ended with the final on the garden of Papeete city Hall.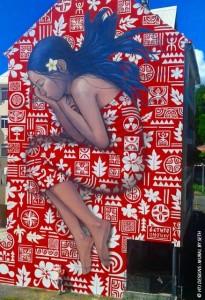 gProgram launches with the Letterin step, the round1 of the qualification. Writers were given five hours to complete their artwork.
The next round was about scenery and character. Artists were given five hours to complete a setting and/or character in compliance and coherence with a theme selected at random.
And finaly, the third round was a team wall painting. Competitors have been randomly divided in teams of 2 and given 2 days to complete a themed wall painting.(approx. 50m²)
The ten candidates which have obtained the highest scores from the previous qualifying rounds were selected for the big Ono'u final. The top 3 winners will be rewarded by the jury.
And the winner this year was Phat 1 from New Zealand, just before the Australian, John Kaye and at the third place Gent 48 from UK.
Ono'u challenge ended but the paintings and emotions will remain for much more long time on the whole island. Beyond the competition, Ono'u was a unique event, the occasion of sharing knowledge, passion and fun. The meeting between Polynesian Culture and comptemporary street art.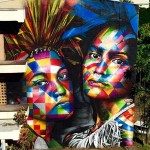 Some of the best living legends of the graffiti worldwide scene were specially traveling to the mythical island of Tahiti to create amazing wall murals and unique frescoes.
For example, the Brazilian artist, Kobra has painted this wonderful wall mural.
cf:  Kobra's mural paint on the wall of La Mennais school.
At the end, the real winner of this event are not only the artists but first of all Papeete city, and every single people how have taken a part in this project, and all the viewer of this world's biggest open-air graffiti museum.
Just come and see it by yourself!