Cultural Treasures from the lagoon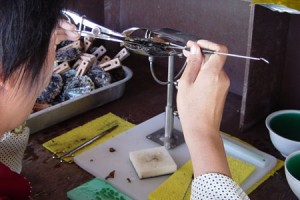 Tahiti cultured pearl farms are found in the lagoons of many atolls and islands in French Polynesia. Over-the-water structures, isolated between the sky and the sea, house the talented people and their valuable knowledge, as well as pearl oysters. The marriage of technical skills and this incredible shell gives birth to the famous Tahiti cultured pearl, populary known as the "black pearl".
A pearl farm is above all a business that needs to operate with sensitivity and patience since an oyster needs at least 18 months after a grafting before it can produce its gem.
Pearl farmers must select the very best oysters for grafting with a nucleus. This extremely delicate operation long remained the specialty of Japanese grafters. Today, some Tahitians and Paumotu residents of the Tuamotu Archipelago also have mastered this technique. A small, perfectly round nucleus is inserted into the gonad of an oyster, along with a graft, a small piece of mantle from a sacrificed oyster. The mantle's cells form a pearl sack and secrete pearl material. The grafted oyster is placed in the lagoon, attached to protective plastic nets and lowered to a depth of some seven meters (23ft).
After 1,5 years of attention and care, there's excitement at the pearl farm because the time has arrived to begin harvested the grafted oysters. Each oyster is opened and the pearl is removed. If the oyster is still in good shape, the grafter replaces the pearl with a nucleus of equivalent size to that a second, larger pearl can be produced. The samed oyster can be grafted up to three or four times. It's called over-grafting.
The pearl farm remains on alert during the harvesting period. Each oyster is a gift, each pearl is a surprise for the person who finds it. Sometimes, nature is even more generous, offering "the exceptional pearl". That is the pearl you want and what you had imagined: the most beautiful pearl of the Pacific.
That's the pearl for you. At the moment, it certainly is very safe inside an oyster, waiting for you.