After leaving their native island Nuku Hiva, North of the Marquesas, the group is on its way to conquer France after succeeding in Tahiti. Strongly inspired by music from a mix of different races and their tormented Marquisian history, Takanini strikes a chord by singing about tradition while telling about the present. Progressive and poignant in the same note…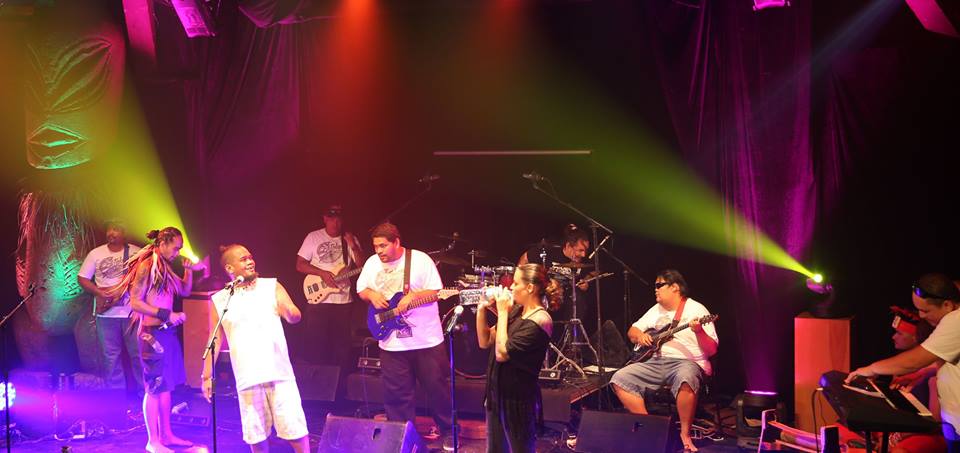 "Takanini. It is like a mighty Marquisian puzzle, but coated with reggae rhythms, long and languid. In the Marquisian tongue, Takanini refers to the stars that twinkle after receiving a blow to the head. In short, a return to ancestral culture. It shocks you, but it awakens you. It opens your eyes". It is with these words that Casimir, Takanini guitarist, presents in the latest opus of the group, Live in Tahiti.
We listen to their latest album, "Live in Tahiti" and is inevitably affected by this language that leave even the Tahitians perplexed. Their ballades are repetitive, freely looping, giving the impression of hovering over the deep, green bay in the Marquesas while they pay tribute to traditional sounds, like that of Au Miti Au. They invoke ancestral Marquesas, sometimes warlike and shivering, with tinged with reggae.
The music video of Takanini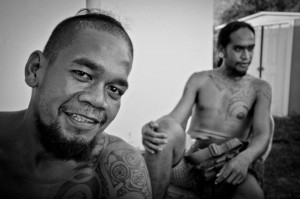 Faces, Figures …
Unknown until a few years ago, even on their native island of Nuku Hiva, Takanini is definitely gaining momentum. An extensive tour on the island of Tahiti in 2015 has allowed many fans to put a face to these stirring, racially mixed rhythms.
Indeed, beyond the music, the faces of this group leaves no one indifferent. Like that of Poiti, lead singer of Takanini. His movements, a little inhibited by an apparent shyness and considered quite emotive, the lead singer of Takanini, nonetheless embodies his music. One could spend hours scrutinizing his expression from which the notes and lyrics of the music are expressed so naturally, so intensely at each performance. The musicians let loose, the crowd is euphoric with this boundless energy. Universal. In front of the tattooed face of Ludo, backup singer and dancer, driving the point home with the full force of their chorus.
The Marquesas today, faithful to their roots
For their French tour, Takanini take in their baggage, instruments of percussion, ukulele, guitar, bass … but above all, the souls of the Marquesas, omnipresent in their songs. Without naming them, Takanini speaks of the Marquesian society, transformed by explorers bringing their weapons and devastating illness or even European missionaries who helped crystalize traditions (music, tattoos, attires …) Mindful of that past, but grounded in the present, Takanini is the embodiment of the Marquesan cultural revival after centuries of oblivion. This is proof that the Marquesas have, more than ever, beautiful stories to tell. And in the most beautiful way!
Listen to : Kamave, one of the tracks of Takanini

Dates to remember:
March 24-28 – Festival Rochefort Pacifique (Charente-Maritime)
April 11- Musée du quai Branly (Paris)
April 14 – Argelès-sur-Mer (Pyrénées-Orientales)
Takanini has launched a fund raising campaign to finance their tour in France. Check out:
https://www.facebook.com/TAKANINI-CREWZ-159966444093641/app/208195102528120/?ref=woobox