Huge. Monstrous. Unique … The surfing world has no shortage of superlatives to describe the mythical wave of Tahiti. In late July, the monster awakens, attracting "free surfing" around the world and an impressive line-up of surfing demonstrations for the less original, sometimes with crazy combinations of mixing motocross and fire … An explosive season in perspective, only a few days to the Billabong Pro, the 7th and important phase of the WCT, scheduled to begin on August 14 in Tahiti.
Teahupoo comes to life on the morning of July 22, this kicks off the start of surf season under the best conditions. A magnificent southwest swell, bright sunny weather, enough to attract the curious spectator and evidently the big wave chasers.
Pushing the limits
Keala Kennely, a Hawaiian surfer, known to be one of the first women surfers to have ridden Teahupoo anxiously awaits for hours the moment to jump in the water. She was one of the first to practice surf by tow but also one to be very seriously injured in 2011. She eventually won one of the best waves rides of that season. A ride fondly remembered, as her performance pushed the limits of women's surfing to gain new respect in the opinion of many observers.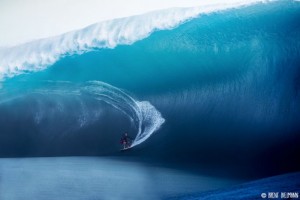 Always on the cutting edge, Red Bull would never miss the Teahupoo encounter for anything in the world… Under the filming of "Who is JOB 5.0", they asked another Hawaiian, Jamie O 'Brien, to ride Teahupoo … by fire. With his back coated with flammable gel, the professional surfer rode down the wave, offering himself, by his own admission, "the best wave of his life" …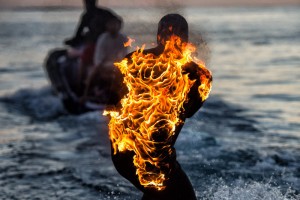 Even more insane, and totally nonsensical …, some might say! It was by motocross that seasoned Australian Robbie Maddison launched an assault on Teahupoo. The fruit of two years of preparation, his performance, was deemed to resemble more like riding a waterfall than surfing it, purists criticized. His feat was nevertheless, widely publicized. Viewing the footage, one can understand what the buzz generated by the Australian…

Now, ten days and counting till the start of the big event. The taxi boats await to shuttle spectators to the break point in Teahupoo where the action happens. To contact a shuttle boat, 87.75.11.98 or at www.teahupooexcursion.com Otherwise, meet at the next big surfing event – the next Billabong Pro, August 14 – 25 and see the best 36 surfers in the world work their magic, including homeboy, Michel Bourez !