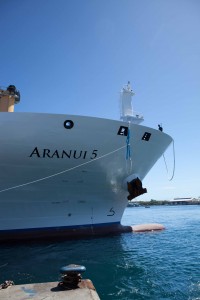 The arrival of a new ship in Polynesia is always cause for celebration. But that of the Aranui 5, straight out of Chinese shipyards in Huanghai, had a special flavor this Monday, November 9th. She is THE star of French Polynesia in the field of passenger/ cargo vessels as she makes her grand entrance for the first time in her home port of Papeete … In the coming weeks, she will replace her predecessor, the Aranui 3.
For this exceptional welcome, the owner of the Compagnie polynésienne de transports maritime had invited family, friends along with… dancers and musicians! This is how we welcome a new ship to French Polynesia. A tradition fit for the arrival of the Aranui 5, the flagship of the company and the only passenger/cargo vessel to board cruise passengers and goods on board the maritime routes of the Tuamotu and Marquesas for 30 years … For a truly exotic cruise.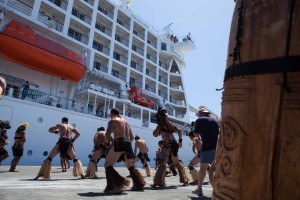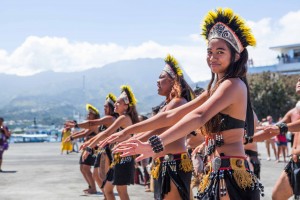 The symbol of Polynesia as a cruise destination
The adventure began in the 80s when inter-island transport was experiencing a difficult pass, but at the same time cruise liner travel was booming all over the world. One of the founder's sons, Jules Wong, observed this dual phenomenon from the United States, where he was living at the time. He had a rather crazy idea … Shortly after, the Aranui 1 was transformed. Amidst the sacs of copra and goods transported to the islands, were 27 passengers aboard for a cruise of 17 days! Their cruise agenda: the Marquesas Islands via the Tuamotu and on occasion, stops in Bora Bora. The success, encouraged by the marketing of this original cruise product by US cruise agencies, was instantaneous!
A new passenger cargo vessel with the feel of a small cruise ship
Thirty years later, the Aranui cruise program has hardly evolved, but its success, grows every year. This is what led her owner to begin construction in 2014 of a new passenger cargo vessel. Same principle: the containers and a crane at the bow and rooms for passengers in the rear. The only different aspects are the vessel capacity and level of comfort on board. Aranui 5 will soon accommodate 266 passengers! "Our customers ask us for more and more cabins with balconies," says Romina Wong, Executive Assistant. The Aranui 3 only had 12 as opposed to 62 for this new vessel.
The cruise and comfort played a primary role in the construction of the new ship, which now has a spa, three bars, a large swimming pool and several lounging areas reserved for cruise passengers. As a bonus: the hallmark of the family business: authenticity and presence of a 100% local crew. The key to success of the Aranui  … to which the new Aranui 5 brings is a little extra luxury to be enjoyed by her 266 passengers en route to the Marquesas on board starting December 18, 2015 …