Finer point and dexterity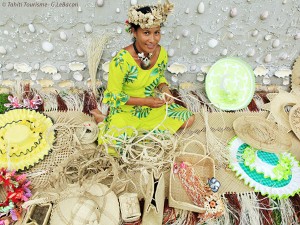 The Austral islands exhibition will take place at the Venue of the Presidential hall of Papeete from October 25 to November 9, 2013. Organized by the COEAA (Organizer Committee of Handicraft Exhibitions from the Austral Islands), this 12th edition of the show will welcome five federations gathering together 50 artisans from the islands of Rapa, Raivavae, Rimatara, Rurutu and Tubuai. All the artisans will be there to showcase the handicrafts of their island.
These native artisans excel in various fields and especially in their weaving technique. Indeed, they improved their art by offering modern products made with authentic materials directly collected in their islands. For instance, you could find articles like checkbook holders, fans, bracelets, bangles, or even wallets made with pandanus, ni'au (young leaf of coconut tree), or with bark of the Purau tree. We note that the star product of this show is still the « peue » (a woven floor mat), hats or woven bags.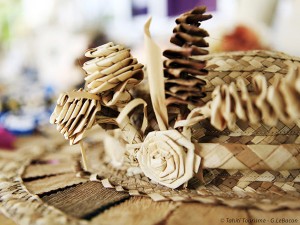 In the Austral Islands, weaving is considered as a major craft. It is often honored during events like this one. The art of weaving was imported in the southern islands in the sixties during the migration between archipelagos. Later it became the specialty of the inhabitants of Rimatara and Rurutu. Thus, in these islands, young girls are introduced to the art of weaving from age 9. They usually start by learning the various stages of production of raw materials: the pandanus leaf drying, the preparation of rolls (about fifty leaves) to serve as a spindle. This weaving work requires manual dexterity and lot of patience. It should be told that the mamas (name given to grandmothers working these crafts) consider that a hat takes about three full working days depending on the model's degree of difficulty. Various materials are also used to weave which opens up to endless possibilities.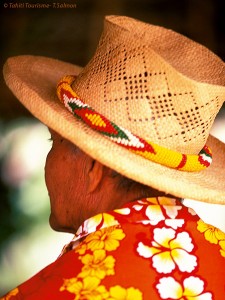 This gathering of artisans will also honor other practices: sculpture, jewelry, Tapa and Tifaifai… The objective will be to celebrate the Polynesian know-how. You can observe quality of the work done by these professionals who transform these natural elements (shells, rocks, piece of wood) into fine handicrafts. All these objects are sold on stands during the exhibition. They serve as unique gifts and souvenirs for locals and tourists to mark a memorable stay.
Many contests will be organized during the exhibition. This allows recognition of the most talented artisans. The event presents a unique opportunity to meet the people of the Austral islands and discover their culture!