An invaluable natural resource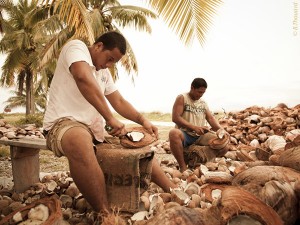 The coprah industry (coconut oil) in French Polynesia is an important activity mainly in Tuamotu archipelago. It is the main agricultural resource of the islands and contributes to a large part of the local economy.
Traditional coprah has been used since the 19th century in Polynesia, being of superior quality due to the warmer and drier climate. In these isolated islands, it remains sometimes the only source of income aside from pearl farming and fishing.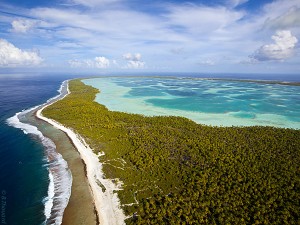 Today, coconut plantations still occupy two thirds of the arable agricultural land in the islands, corresponding to 12,000 hectares. Coconut trees meant for copra production were started in the nineteenth century to the detriment of an island's native biodiversity. The coconut provides food, drink, serves as containers, fiber roofing of leaves, fuel and fertilizer. Coconut and its physical derivatives (shall, fiber) are quite resistant to the elements and is easily transportable. It is also easy to plant.  It is therefore understandable why they represent a vital source of life for the Polynesians.
Coconut oil or coprah oil is made ​​from the dried kernel of the coconut, called coprah. The pulp of the coconut is extracted and dried in the sun to reduce its moisture content. It's then placed in bags to be transported to the mill of Tahiti. A ton of copra requires 4 000 to 5000 coconuts. The crude oil is then extracted from copra using mechanized pressure.
The "Huilerie de Tahiti" (copra processing plant and unique trading entity) was built in 1968. With a production of more than 7000 tons of oil per year, it produces a vegetable oil from copra which 95% are for export, mainly to the European Union (Belgium, Luxembourg and France Metropolitan). However, it faces competition that has developed over several years with the productions of South-East Asia countries.
The mill buys the entire production to transform it in crude oil or meal for animal feed (livestock and poultry) for the local market or refined oil associated with tiare flower for making "Monoi de Tahiti".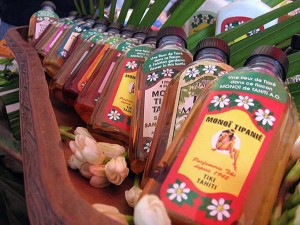 "Monoi de Tahiti", received the label of origin in 1992, as an exceptional product for skin care and hair. It is commonly used by Polynesians but also in Europe as tanning oil. More recently, a new trend for beauty products using Monoi appear in France with body creams and balms for hair. These products are used all year round representing a promising new market for the copra industry.
Derived from coprah, coconut oil is also widely used in the food industry for the manufacture of margarine and vegetable fats such as coconut butter. It also has excellent foaming properties and is widely used in the soap industry.
With the development of many products derived from coconut, it will be inevitable to see emerging markets. More interesting would be the prospect of using coconut oil as a source of energy to replace diesel. This promises a bright future for the copra industry and French Polynesia.