The treasure of Raiatea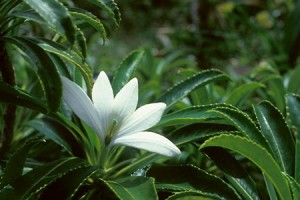 In the heart of the Leeward Islands, Raiatea is home to the tiare Apetahi flower, a natural treasure that is unique in the world. The white flowers have five petals and look like an extended palm when open. To see the flower you'll need to hike the flanks of Mt Temahani, the highest summit of the island.
Today only an estimated five hundred plants remain and thus the flower has become a protected species. Many people have tried to cultivate the flower elsewhere, without success – the Tiare Apetahi it appears will eternally be linked with its birth island, its only place of refuge.
Polynesian legend states that the goddess Tiaitau, the guardian of time, climbed Mt Temehani to mourn the departure of her lover, the warrior Tamatoa. Filled with despair she cut her arm to plant it in the earth – it grew into the Tiare Apetahi. Today the flower is the symbol of the sacred isle of Raiatea.
© Tahiticommunication – all rights reserved / Translation: Celeste Brash
Photo Tahiti Tourisme – S. Kobayashi