A Happy Event Only for the Best of Everyone.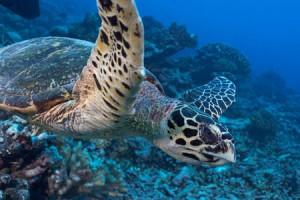 Tahiti and Her Islands are natural treasures that must be protected during tourism development. Bora Bora, the Pearl of the Pacific, is taking the lead. And while each resort is aware of what is at stake and act according, certain hotels are real examples of eco-citizen behavior.
Take, for example, the InterContinental Bora Bora Resort & Thalasso Spa, which opened in 2006 with its revolutionary system known as SWAC, or Sea Water Air Conditioning. Seawater with a temperature of 5° C (41°F) is drawn from an ocean depth of 915 meters (3,000 feet) through a 2.4 km (1.5 mile) long pipe to the nearby coral reef. The ice-cold water is pumped through a heat exchanger and sent through a fresh water circuit providing the resort's air conditioning. SWAC is designed to save up to 90% of the resort's electricity consumption for air conditioning.
Meanwhile, the Bora Bora Pearl Beach Resort & Spa has participated since 2001 in the "Toa Nui Project". This involves regrouping endangered coral to create coral colonies in a protected environment. Guests can admire these baby coral reefs as they look through glass windows in their overwater bungalows. The hotel began a partnership in 2008 with the French Polynesia Reef Check Association to help educate the public about protecting the marine environment. This year, the Bora Bora resort was one of five South Pacific Management resorts in French Polynesia to receive a Bronze Green Globe Certification. This is recognition for daily efforts on improving and protecting the environment and the ecosystem.
Le Maitai Polynesia Bora Bora recently achieved the Green Globe Certified Silver benchmark status within the worldwide group of sustainable tourism operators.
Ten years ago Le Méridien Bora Bora created a Sea Turtle Protection Center, a combined scientific and tourist project. The center has raised and released more than 500 turtles since 1999, helping them to avoid poachers and to repopulate among the outer islands. The hotel also regularly participates in environmental actions—building of coral reefs, fish breeding and in the creation of a coral nursery.
Finally, the Sofitel Bora Bora Marara Beach & Private Island, like many resorts, focuses on energy conservation, animal sea life protection, creation of coral gardens and nurseries. It also flies a European Blue Flag, the symbol of exceptional environmental quality of the Foundation for Environment Education.
Bora Bora and the rest of Tahiti and Her Islands remain aware of today's environmental problems and their high susceptibility to even the slightest disruption. That is why the people native to these islands as well as those "passing through" must always bear in mind that "we do not inherit the earth from our parents, we borrow it for our children".