The Bora Bora Underwater Wedding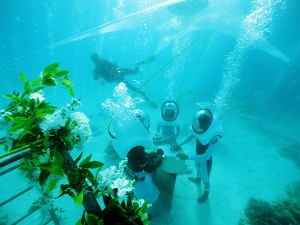 Couples from all around the world already have a vast choice of unique wedding ceremonies to choose from. For instance, they can get married facing the « King » in a chapel of Las Vegas or directly "in the air" on a platform suspended 50 meters in height in Belgium… Now, to add to all of the unique ways to "tie the knot", TOPDIVE introduces the Bora Bora Underwater Wedding to couples wanting to wed 13 ft. under the sea in the lagoon of Bora Bora with the aide of underwater helmets. No scuba diving experience required!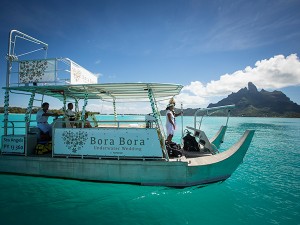 First, the couple embarks on a double canoe outrigger directly from the pontoon of their resort. The bride and groom are comfortably installed onboard. A romantic scene is set with music and refreshments for the short boat trip to the ceremony site located in the middle of the blue lagoon. A hostess will assist the couple in gearing up with white dive suits and underwater helmets. After a short briefing, the bride and groom will be immersed in the translucent waters with the aide of their dive helmets. They are accompanied by a diver for safety and a cameraman to capture the underwater moments.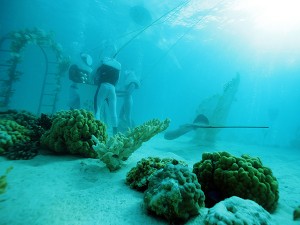 The couple reaches the underwater chapel « Te Ana Ipo » (grotto of love) which is surrounded by coral and undersea life. Underwater, a Polynesian priest dressed in a regal vest and a scepter covered with mother-of-pearl shells, welcomes and escorts them to two Pomare armchairs – in the tradition of Polynesian royalty. The underwater ceremony respects the codes of a traditional wedding ; the signature of the wedding certificate and the exchanges of rings. The couple is able to audibly follow the ceremony with the aide of waterproof audio players. The traditional "yes" pronounced by the bride and the groom will be replaced by a hand signal. Although due the technical aspect of their dive, the groom has to wait to reach the surface to kiss his bride.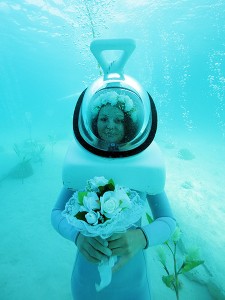 To commemorate their union and leave an everlasting symbol of their ceremony, the couple plants a young coral spout on the reef bottom of the lagoon of Bora Bora. Both to symbolize their environmental awareness as well as leave a symbol of their growing love.
Unlike ceremonies done with scuba gear, this wedding ceremony requires no diving experience since it is done 100% by helmet diving. Air supply from the surface fed to a helmet immerse underwater. The couple will feel more like astronauts walking slowly on the moon. Two Spanish lovers were the first couple to experience this incredible wedding on November 1, 2014. There is no doubt that this ceremony will be a lifetime memory for any couple…
For more information visit the Bora Bora Underwater Wedding website or book this wedding service on e-Tahiti Travel.
Discover the video of this underwater wedding.