The French Polynesia signature of luxury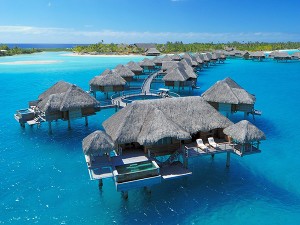 Today, a stay in an overwater bungalow is a must for ensuring your "perfect" Polynesian vacation. Seeing the beauty of this architectural structure, it is easy to understand why.
Nowadays, the overwater bungalow is a key element for any self-respecting hotel of French Polynesia. Indeed, most luxury Polynesian hotels offer this type of accommodation: Le Méridien Tahiti, the Sofitel Moorea, the Te Tiare Resort in Huahine or the St Regis in Bora Bora… The "coziest" bungalows are idyllic places for lovers while the largest bungalows as the presidential villa at the Hilton Bora Bora are perfect for families .
The first overwater bungalow of French Polynesia was built by the "Bali Hai Boys" for their touristic village in Moorea. The « Bali Hay Boys » were 3 USC graduates from Newport Beach that went to Tahiti to escape modern life.
Then, the first "luxurious" overwater bungalow was built in 1971 in the famous Hotel Bora Bora. This hotel was simply the first hotel never built in Bora Bora in 1961. Nowadays it is a part of the luxury "Aman resorts" chain. These first luxury overwater bungalows unique in the world had quickly attracted a wealthy American customer base. A real success story !
The Polynesian bungalow is usually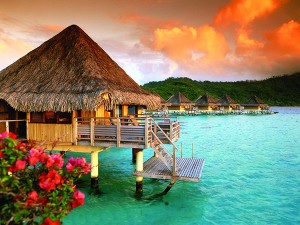 built with wood. It presents a roof made with dried Pandanus leaves giving it a native style. The overwater bungalow can be set a few meters from a splendid white sand beach and be accessible by a pontoon. It offers spectacular scenery between sky and sea.
It generally features a private terrace to give a direct access to the turquoise lagoon. Some bungalows located in the "deep" waters allow you contemplating beautiful coral gardens. Other luxurious resort invite you to swim "above the lagoon" in a small pool set on the bungalow's terrace as the Four Seasons.
In Le Meridien Bora Bora, the bungalows present a glass floor that allows observing small colorful fish in the lagoon directly from your living room. Moreover, the Maitai Bora Bora bungalows feature removable glass bottom table to feed these tropical fish. This type of accommodation well-rooted in the natural environment features all necessary modern amenities.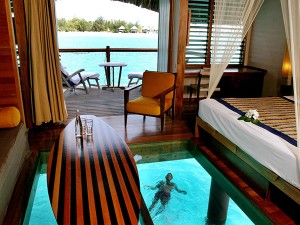 For example, the InterContinental Bora Bora Resort & Thalasso Spa offers air-conditioned overwater bungalows thanks to an ingenious system using the freshness of deep waters (SWAC system). The overwater bungalows often benefit a perfect orientation to enjoy breathtaking sunsets. Furthermore, it is such a pleasure to wake up with a canoe breakfast served directly on your deck.
In the eighties, this sort of accommodation was widespread in the South Pacific region, the Indian Ocean and the Caribbean. Often copied in other tourist destinations, it is still in French Polynesia that you will find the most beautiful overwater bungalows of the world.