Heiva Tu'aro Ma'ohi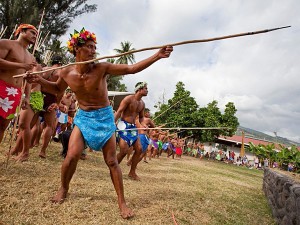 Every year, the Heiva Polynésian festival holds a traditional sports contest. This event gathers numerous Polynesian athletes. For the 131st Heiva, the sport of Polynesian javelin throwing is one of the main events.
This traditional sport uses good accuracy and agility. It is referred to as the patia fa in the Maori language.  The javelin throwing competition will take place in the gardens of the "Musée de Tahiti et ses îles" from July 13 to 14, 2013. It is distinctive from the Olympian javelin throw, where the goal is to throw the javelin as far as possible.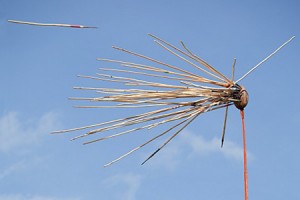 In French Polynesia, the javelin throw needs a target. This target takes the form of a coconut hoisted on a 10-meters pole. This pole is placed 22 meters away from the "shooting range". The objective of all competitors is to target the coconut. In fact, the coconut is divided horizontally into five equal parts. Each part gives different points to the athlete, the highest part gives the most points (10 points). The javelin throw has many rounds. Like in the dart game, the winner scoring the most points after all the different rounds wins.
This contest is open to both men and women. Each athlete has 10 javelins each with distinctive markings for personalizing each contestant. These javelins are cut directly from a branch of flexible wood like mulberry or Gardenia. There is no limit to the length of the javelin used in the competition. Thus, each one can use a javelin with a length dependent on one's height. Nowadays, the competitors use a metal tip for their spears.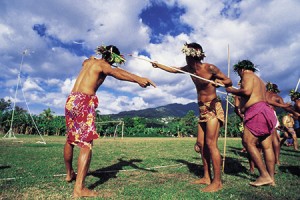 The throws are made by series of ten. Each player has 7 minutes to try to hit the target. The succession of throw series offers a colorful array of javelins showers in the sky. Gradually, the coconut is covered with numerous spears. It is not as easy as it seems to plant a spear in this distant coconut.
The basic movement is rather intuitive: A finger placed at the base of the spear serves as a propulsor and the other hand aids in the aim of the thrower. Of course, the skill and personal technique of each competitor remains secret.
Nevertheless, each year the public is in for an amazing and colorful sight, with athletes in traditional costume in the throes of this traditional Maohi challenge.