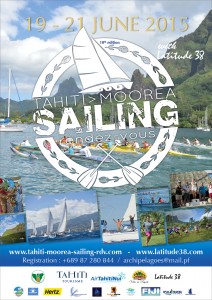 The Tahiti-Moorea Sailing RDV is  organized by Archipelagoes and Latitude 38 magazine. This annual event  brings together sailors from all the oceans for a stopover in French Polynesia.
This friendly rally helps the promotion of traditional sailing and water sports. More than 60 yachts and 250 people of different nationalities participated to the festivities between Tahiti and Moorea (the sister island), during three days.
This year, the TMS RDV celebrated its 10th edition, the first since the inauguration of the new marina in Papeete.
The 2015 edition took place from June 19 to 21.
PROGAM: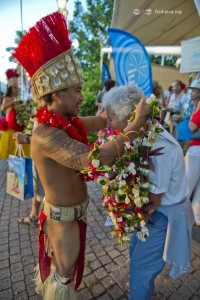 Friday 19:
The festivities took place under the pergola of GIE Tahiti Tourisme Papeete. All the participants were invited to finalize their registration and receive expert advices with a briefing on the Leeward islands navigation.
Visitors had the possibility to meet the skippers, create affinities and interact with them.
On Saturday, June 20th :
The Navigators all met at the " starting line ", indicated by two boats -committees of the Tahitian Sailing Federation. Over than 60 sailboats were at the meeting , a record for this event .
The beginning of the sailing races was scheduled for 10:30, outside the pass of Papeete.
Later in the afternoon the yachts arrived in Moorea Cook's Bay (also known as Paopao Bay ), entering the "Teavarua pass" to finish the race in the PGEM area at the bottom of the bay.
The day ended with a festive atmosphere, on the Beach of the Bali Hai Club. This was also the place where the enrollments of traditional Va'a teams were organized for the next day.
The evening ended with traditional dancing show, fire dance show and a projection of films about the oceans protection.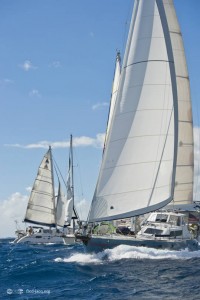 On Sunday, June 21 :
Last day of the festivities on the beach and in the gardens of Club Bali Hai, Moorea .
It was an opportunity of discovering and sharing about traditional Polynesian sports.
Program: Races of V6 Va'a (outrigger canoes ) mixed crew (2 Polynesian rowers and 4 participants to the rally by canoe). Initiations for sailors to traditional sports: fruit carriers race, raised stones, coconut stripping contest.
The awards ceremony fenced this 10 edition of Tahiti Moorea Sailing RDV .
This event was a great opportunity for  navigators from all over the world to discover French Polynesia, better know our islands, the Polynesian culture and their knowledge of the sea.