The Polynesian art of wellness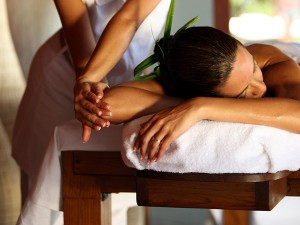 Taurumi is a Tahitian word meaning "the contact with each other through touch and energy". The Taurumi massage is a spiritual and therapeutic practice inherited from the Polynesian ancestors. This practice combines touch and massage and is a very widespread practice in our islands. According to the elders, the Taurumi massage is a therapeutic practice focused on the different "energy lines" of the body. It is aimed to prevent and treat physical and spiritual pains by extracting all the negative energies of your body.
The Taurumi massage is done using Monoï oil. This massage oil will provide all its nourishing and moisturizing virtues to the body. The Taurumi masseur is called the "Tahu'a". He can use his hands, forearms, elbows as well as his feet for the massage. The Taurumi massage usually begins with the head to end with the feet. It starts with the "nini" point at the base of the skull. According to the Polynesian beliefs, this zone is the entry point of our soul.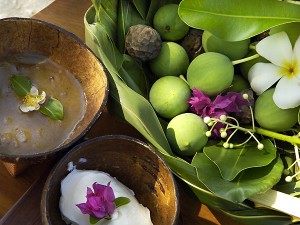 From the first contact, the Tahu'a identifies the source of your pain in aim to adapt his treatment. To guarantee a good massage, the masseur must be in a state of enthusiasm and totally devoted to the patient. This perfect state of mind is called "Ana'anatae" in Maori language. The Tahu'a follows the various energy lines of the body reaching its extremities. He aims to facilitate the transfer of energy in the entire body, the "Mana". The Tahu'a is sometimes compared to a faith healer or a magnetizer due to his extraordinary practices.
The Taurumi treatment can also be applied to young children. As a matter of fact, many children are regularly massaged by their mother in this fashion. This act of love is supposed to protect the newborn during his growth.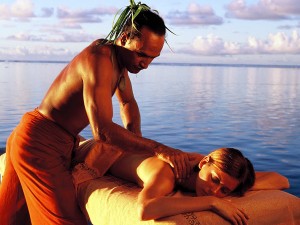 The benefits of this ancestral massage seem unlimited : extreme relaxation, prevention of muscular pain, balance of the energy flow, elimination of the toxins due to the everyday life… Whatever your trouble, the Taurumi massage may treat it by acting on your physical and mental state.
Nowadays, the Taurumi massage is practiced in all spas of French Polynesia and some beauty salons in France. It became the Polynesian spa treatment par excellence. It offers a bit of exoticism and escape, perfect to break with your daily routine. During your next stay in our islands, do not hesitate to let your body in the experienced hands of a Tahu'a and live this deep relaxation.