Cruises have always played an important role in the tourist development of French Polynesia because of many tourists it brings to the neighbouring hotels, shops and restaurants while the ships are staying on shore.
We can consider 2 different types of cruises : the ships transiting through our waters and the ships based in French Polynesia.
In the first category, we have ships like the Queen Elisabeth II that we had the pleasure to welcome last year after over a decade of absence. These cruises are usually managed by large international companies.
In the second category, we can consider the following products :
Aqua Tiki II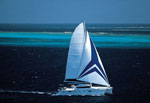 Cruising aboard the Aqua Tiki II is the perfect way to discover secluded Polynesian atolls and islands for divers and non-divers.
Enjoy the comfort aboard as you could plan activities on the algoon with the help of professional crew (skipper, hostess and diving instructor). Come and discover amazing dive sites during this unique cruise in our islands.
Aranui

The Aranui is a mixed passenger/cargo cruising between Tahiti and the Marquesas
Archipels Croisière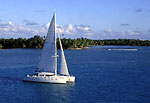 Open since 1992, Archipels features several cruises in the Leeward islands and in the atoll of Rangiroa aboard their catamarans.
Dream Yacht Charter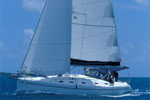 Dream yacht Charter proposes boat rentals and customized cruises. The company gives you the option to sail with or without crew on board the newest catamarans and monohulss. The cruise calls at various islands with the most famous Leeward island , Bora Bora. For 4 or 8 days, depending on the chosen program, you will discover the different splendid atolls of Fakarava, Apataki, Rangiroa and Tikehau. The South Pacific Ocean beckons.
M/S Paul Gauguin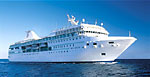 Currently the most luxurious regular cruise. Apart from 3 special cruises (see below), all trips last for 7 days leaving every Saturday nights from Papeete (Tahiti) and returning Friday evenings for your last night on-board after a gastronomic dinner. Disembarking is at 9:00 am Saturday morning. The M/S Paul Gauguin features 3 different itineraries to a maximum of 320 passengers mostly from the United States
Niyati
A customized diving-cruise in the Leeward islands aboard a Spotless Bavaria (49′) sailboat : this is the dream Niyati has to offer to discover Huahine, Raiatea, Tahaa and/or Bora Bora. With a maximum of 4 guests, enjoy the comfort and the peaceful rythm of cruising and sailing. With top-of-the-line equipment and with the supervision of a certified diving instructor, you will dive in some of the most beautiful sites. It's that simple ! You just have to choose your itinerary and how long you wish to do your cruise: simply the best diving cruise you've been dreaming of !
Tahiti Yacht Charter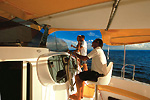 Yacht charter base, fleet of 20 catamarans, with or without crew
Sail on your self-skippered boat and explore Tahiti, Bora-Bora, Raiatea, Tahaa, Huahine…
Plan your own itinerary, enjoy secluded white sand beaches, stop at remote "motus"and swim in translucent blue lagoons.
Sailing adventure for a dream vacation, in complete freedom, at your own pace.