Once you have made it to our paradise either by plane or by boat, how are you going to move around? You will have to choose among the following options: hitchhiking, using the public transports ("trucks"), renting a car or paying for a taxi.
The "truck"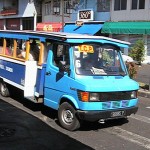 The most common and easiest way of transportation is to use public buses called "trucks". Trucks are local buses equipped with wooden benches at the back and they can accommodate up to 40 persons. Most islands have only one main circling road. Consequently, getting around with public transports is easy : you just have to pick up the correct direction (actually, if you fail, you will have to make a complete island tour

. Apart from Papeete, there are no definite bus stops. Just stand on the main roadside and lift up your arm when the truck comes and jump in when it stops. To stop the bus, you will need to press on one of the bells neighbouring your seat just a few hundred meters before your destination. Get out and pay the driver through the window.
Rem : traditional trucks are about to disappear from the Polynesian landscape. In April 2002, new modern buses have been launched in Tahiti.
Hitchhicking
Hitchhiking is pretty usual and safe even in Tahiti. If you move around Tahiti at the end of the afternoon, you will notice many teenagers hitchhiking with their body boards from the beaches back to their homes.
Renting a car
Most touristic islands (Tahiti, Moorea and Bora Bora) have car rentals agencies located in the airport or downtown. 4-wheels drive vehicle are available on request. Check the "Transportation" menu of the island of your choice for more details.
Taxis
Except for Tahiti, few taxis are available in the islands. Ask for assistance at your hotel's front desk
Other pages in the same section