The Moorea Paddle board adventure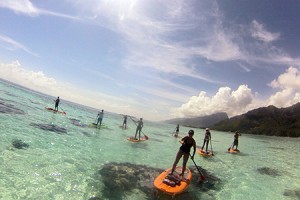 I had the opportunity to try the Moorea Paddle Board Adventure Tour during this Easter weekend. Arriving at 07:35am on the Moorea ferry dock we were met by Franck, the person in charge of the excursion. He drove us to take off point, the InterContinental Moorea Resort & Spa.
We got to the hotel at 8:00 am, to join the rest of the group: four French tourists and Mickael another guide. Once dressed for the nautical activity, we got on our stand up paddle board, adjusting the size of our paddle and attaching our ankle leashes. Finally ready, we left the beach surrounded by our guides, Mickael leading our little pack and Franck bringing up the rear.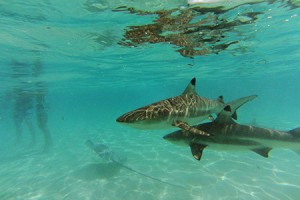 First step was to go along the beach to skirt a large head of corals. Crossing the path of a school of spotted eagle rays, we paddled while gently being pushed by the wind. We quickly arrived at our first stop, a beautiful sandbank. There, we easily identified a dozen pink Whiprays and blacktip sharks swimming in the area. Mickael held our paddle boards to let us swim freely with these inoffensive animals. The rays and sharks seemed accustomed to human presence on this site. This first stopover was full of encounters.
Then we moved towards a motu about 1km away and traced our path between corals scattered on the sandy bottom. Arriving around the islet, we stopped at a small natural wading pool that we found an idyllic place to enjoy some delicious fresh fruit juice and a fruit (rambutan, guava or apple) courtesy of our guides. We found this second stop a welcome break and quite refreshing.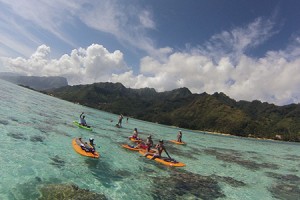 After this 10 minute break, we left our beautiful natural pool to explore the areas around the motu. We took a tour around the island, passing a few meters away from Moorea's barrier reef. It was cool and we kept at a leisurely pace. Arriving at the end of the motu, we discovered a second motu hidden behind the first. Then we cut through between the two islets to arrive at a protected beautiful coral garden. Standing on our board we noticed many colorful fish. At this moment, our guides signaled us to take 15 minutes to explore this secluded cove. The sun still beat down strong but it was fabulous.
10:40am, the tour was soon to end. We climbed back up our boards going towards the coast of Moorea. During 20 minutes, paddling along the coastline. The excursion finally came to a close in front of the Fare Miti pension. Slightly exhausted and thoroughly tanned, we enjoyed the last moments swimming while the guides put away the equipment. Back to the hotel, I though it about time to get my feet back on firm ground. I found the tour quite fun and refreshing – definitely an activity accessible to all.