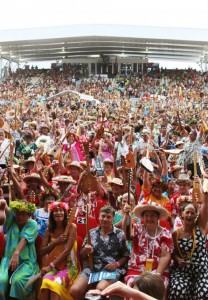 They were precisely 4792 ukulele players, officially recorded, to perform all together the song « Bora Bora » at the Toa'ta Arena in Papeete, on April 11th, during this 1st Ukulele Festival. They created the world's largest ever Ukulele ensemble!
The record, approved by the Guinness World Record, was previously held by England with "only" 2370 players. Tahitian people smashed it, they really rose to the challenge with about 3 000 extra people, not recorded, outside the arena!
They all gathered around a shared passion for ukulele and Polynesian music! It was a colorful festival of flower crowns, pareo, traditional hats. What a great opportunity to showcase Tahitian cultural wealth to the world. Besides, the event has been taken up by several international medias (BBC, NZ Radio, France TV…).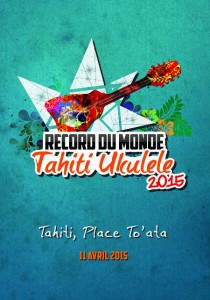 The ratification of the record was going under strict rules and controlled by a bailiff. All the players had to perform together, at the unison more than 5 minutes. They failed at the first try for an unusual reason : everybody sang too loud and the voices were covering the ukulele ! It was too hard to whisper « Bora Bora » such a famous song…
After the second try and certain that all the conditions for the record were fulfilled, they struck up another well-known song « Porinetia ».
A week later, the United States tried, without success, to break the same record. The Tahitian Ministry of culture had anticipated the event saying that if the USA got the new record, French Polynesia would answer with 10000 players !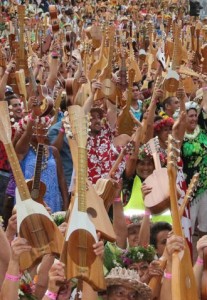 The success of the ukulele Festival had already started weeks before with free ukulele lessons, group of people naturally gathering in the disctricts, a tutorial was even put online to learn the chords and to be ready for the D-Day. In Tahiti, throughout the Island people of all ages rehearsed  together in a very good spririt. No doubt, the ambiance and the good vibes will stay in memories even beyond the performance !