Their scent invades your senses just as you get off the plane and never leaves you for all of its visual and olfactory pleasure. More than an adornment, flowers are a way of life in Polynesia. A stroll in a typical Polynesian garden …
As it is often worn, the tiare tucked behind the ear is only one of many ways in which the Polynesians color their daily lives. The flower festival, which takes place in early February in Tahiti, illustrates this unconditional passion, although not an ancestral tradition…
A bunch of flowers, made by man…
From the Marquesas islands to the Australs, passing by the Leeward island, all the high islands of Polynesia will offer lovers of beautiful plants an extraordinary delight. The tropical climate of French Polynesia, combined with very fertile land, make the Polynesian flora incredibly rich! But without man, it would surely be very different.
From the first navigators to the missionaries, Polynesian flora is due to many waves of immigration not solely from nature alone. Hence some accidents, with the introduction of invasive species, like the shy plant (mimosa pudica), the guava or the infamous miconia, abound around the mountainous hiking trails …
But this floral globalization was also meant to give Polynesia an extraordinary biodiversity that needs to be recognized!
The 10 most remarkable plants in the Polynesian garden
For festival nights in the islands or just to celebrate the arrival of the weekend on a Friday at work, it is not unusual to see groups of vahines with their colorful and fragrant flower lei'd heads … A sampling of the typical "couronne" flower lei on a vahine's head dress…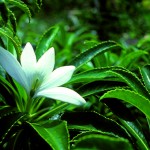 The Tiare Apetahi (apetahia raiateensis)
It grows in only one place in the world: Mount Temehani, in Raiatea. The plants are so rare that it is preferable to have a guide to find them. It is forbidden to touch and gather them since they are endangered species that are fiercely protected.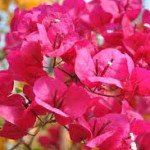 The Bouganvillia (bouguainvillea glabra)
Ornamental plant very common in home gardens and ranging in color from red to pink.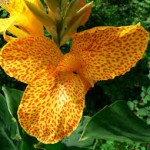 Canna or Indian shot (canna lutea, canna indica)
Yellow (Version lutea) or red (Version indica) spotted, the canna is a beautiful ornamental plant. It also uses its small seeds to make necklaces.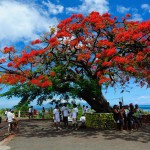 The Flame tree (delonix regia)
At the beginning of the rainy season, the flame tree bursts into tones of crimson. Native to Madagascar, it spreads its majestic foliage in a large umbrella, like the tree in Faa'a on the island of Tahiti.
Frangipani (Plumeria acuminata)
Its flowers, white at the base turning pink and yellow at the tips, feel the full scent of its exotism! Moreover are used very often in making crowns or necklaces.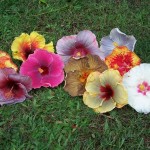 Hibiscus (Hibiscus rosinensis)
It seems to cover the entire spectrum of the rainbow so its varieties of competing colors in Polynesia. Women often wear them tucked behind the ear, like the Tiare flower.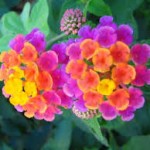 Lantana
Vibrant and even invasive, the lantana is no less remarkable for its multi-colored bulbs that grow everywhere. Their colors vary from yellow to pink, through to orange. One usually comes across them on mountain hikes.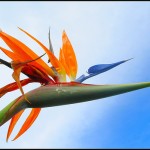 Bird of paradise (Strelitzia reginae)
Its name honors the memory of Queen Charlotte of England, born Duchess of Mecklenburg-Strelitz whose form reminds those of an exotic bird … It is found in abundance … the local market of Papeete.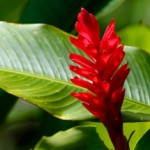 Opuhi or Red ginger plant (Alpinia purpurata)
Red ginger, also called ostrich plume and pink cone ginger, are native Malaysian plants with showy flowers on long brightly colored red bracts. Nicknamed the Pink Tahiti, the opuhi flower is often used to decorate the party tables or the costumes of the dancers. Her pink variant, stronger, occurs more frequently than red.
Moonflower (spathyphylom)
Its name comes from the large white coat that partially covers it . The moon flower is as much known for purifying its purifying characteristic of its flower than that of the toxicity of its stem and leaves. Careful, do not touch!
The 5 most renowned Polynesian botanical gardens :
Harrison Smith Botanical Garden (Papeari, Tahiti)
In a 14-hectare park located on the south coast of Tahiti Nui, one of the most beautiful gardens in Tahiti.
Open daily from 9:00 to 17:00. Admission fee.
The Water Gardens Vaipahi (Mataiea, Tahiti)
Many tropical plants (indigenous, endemic and imported) beautifully landscaped, surrounded by streams, ponds and beautiful waterfalls invigorating.
Open daily from 7:30 to 17:00.
Tour of private gardens (Huahine)
Two accommodation facilities offer visitors and their hosts free and free tour of their garden paradise. Camping Paradise Garden Ariiura and the guesthouse Chez Vahinemoea.
Trails of Te Mehani (Raiatea)
The trails of Te Mēhani rahi et Te Mēhani 'ute'ute alone are a vast botanical sanctuary with exceptional biodiversity and protected. We can cross it with a little luck the famous tiara 'apetahi.
highly recommended guide.
Arboretum Papua Keikaha Temo'ohe (Ua Huka)
A plant sanctuary 17 ha collecting 300 tree species and one of the largest citrus collections in the world.
Free admission. Open Monday to Friday: 6:30 to 2:30 p.m. – 16:30. Holidays, Saturday and Sunday on request.