Moorea as a muse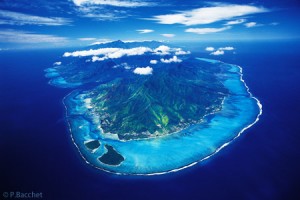 Moorea, Tahiti sister island, is a land of artistic inspiration. With its lush vegetation, this peaceful island has many aspects that inspire artists who have made Moorea their home island. Moorea presents various aspects with its majestic mountains, turquoise beaches, mystic valleys and its jovial population. Each aspect feeds the artist's imagination.
Artists, painters, sculptors, writers and musicians seem to be inspired by this enigmatic island where time is nearly frozen. Using the gifts Mother Nature has bestowed upon them, artists' wonders have never ceased. This is how a rock becomes a sculpture, how a vine becomes a braided necklace, how a piece of bark can be used as a canvas and how a stone can become a sublime jewel.
Artists like Gotz, Bernard MARZI, Gilles FRAYSSE and Philippe DUBOIS participate daily in the artistic expansion of Moorea.
On the sister island, it is as if everybody is touched by a creative fever, each one becoming an artist in his own way. These new artists consider themselves as simple artisans and fix-it men, but make no mistake. Many art galleries in French Polynesia as "Les Tropiques" or "Winkler" in Tahiti dedicate their space to promote these emerging talents.
If you have the chance to take a one day circle island tour of Moorea, discover and appreciate the artworks that decorate the island perimeter. What's more you may even bump into an artist that will share his passion with you. Then who knows, Moorea may reveal the artist hidden deep within you…