A fresh walk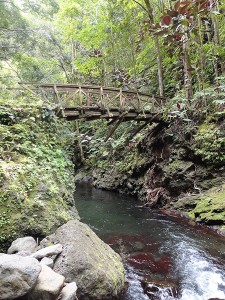 The sunny weekend in Tahiti gave us the perfect opportunity to go hiking in the Fautaua valley. With our hiking shoes on and the backpack full of goodwill and provisions, we began our 3 hours walk in the mountains of Tahiti. Located in Papeete, the path of the Fautaua valley begins at the end of the Titioro district.
The first phase of the walk is really easy – a gentle slope with a large path also accessible by car. During this first part of the path we walk along a quiet river in a green landscape.  It serves as a good warm-up. After walking a good hour, we arrive at the Fachoda Bridge. There, one feels nature at its fullest with the dense vegetation. The setting offers tranquility and silence. After the bridge, the path ascends gradually up the mountain.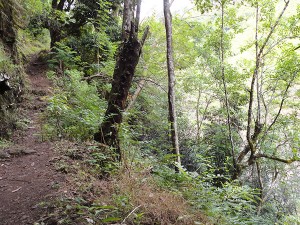 From this point on, the walk gets steeper and the path becomes narrower and rugged. Nature surrounds us and one can appreciate the scents that emanate from the vegetation. As we progress on the hillside walking on a zigzagging footpath, we observe the richness of the flora: palm trees, ferns, coconut trees, fir trees… Another hour into our hike, we arrive at a superb look-out point. From this vantage point, we see our main objective – the Fautaua waterfall. The view is splendid and breathtaking. The place is perfect for a break. This is the 28th world's highest waterfall (985 ft). We estimate our arrival about 30 minute walking from that panoramic view.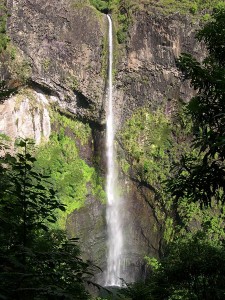 As we resume our ascent. The slope gradually flattens out. We progress easily still on the right side of the rock wall. Some cords (installed by guides) mark out the path and secure our passing.  After 20 minutes walking, we cross the ruins of a fort, the Fachoda fort. This fort served an important place in Polynesian history for in the 19th century during the « French-Tahitian » conflict; the fort was a place of refuge for a group of insurgents opposed to the French presence in Polynesia.
Trudging on, we make our way through even denser vegetation. After 10 minutes trekking, we finally reach our destination. A beautiful setting of two natural water basins with a natural water slide joining the two basins. It all seemed surreal. Clear, fresh water coming from a natural water source flows into the first basin. This wall of water produced a colorful rainbow effect overhead that we found quite lovely.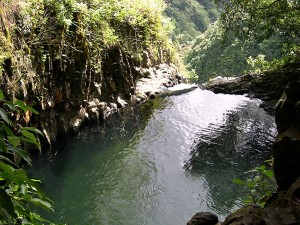 Then, the water continues flowing into the second basin via the natural water slide. The flow ends its course into the void thus creating the Fautaua waterfall.
A nice enjoyable hike ending with a refreshing quick dip to cool hot and tired hikers!