Warmth and sharing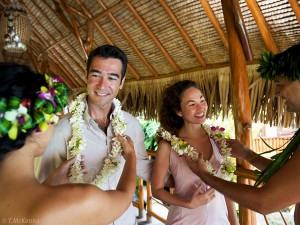 « Ia Ora Na » « Maeva » and « Manava » are the first three words you hear when you arrive in Polynesia, where the welcome is deemed to be one of the warmest in the world.
Welcoming the visitors is a part of the Polynesian traditions and begins when you board the plane to Tahiti where hostesses of Air Tahiti Nui offers a Tiare flower, symbol of Tahiti and her islands. Upon arrival, you are greeted with a flower "lei", to the sound of a ukulele and traditional dances of welcome.
The warmth and hospitality of the people are unlike anywhere in the world, and has been for many centuries. One must go back to the origin of this tradition to better understand: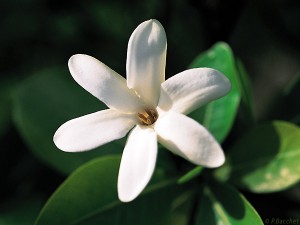 Explorers who discovered Tahiti noted in their stories the friendliness of the people upon arrival. Captain Samuel Wallis, who was the first to discover Tahiti in June 19, 1767, was greeted with banana leaves as a sign of friendship and peace. The Tahitians greeted explorers like gods, those who braved the ocean thousands of kilometers to reach this wild paradise. It seemed only natural for people to offer flowers and a variety of exotic fruits to these travelers to welcome them.
Upon his arrival in 1768, Louis Antoine de Bougainville nicknamed Tahiti the "New Cythera", in reference to the island of birth of Aphrodite in Greek mythology, in tribute to the warm welcome and laxity of Tahitian morals. Following his trip, Louis Antoine de Bougainville wrote the famous "voyage autour du monde de la Boudeuse" published in 1772, this story will know Tahiti and her islands in the world and participate in the creation of the myth of the Polynesian paradise.
For the Polynesians, hospitality is sacred – they reserved their best welcome firstly for those who braved the seas and oceans to come to them and secondly for those who celebrated the departure of their guests in festive ceremonies. Today, this rite is preserved, and it is a shell necklace given to celebrate a departure. It's not uncommon to see Polynesians at the airport with dozens of shell necklaces around their neck when they leave the island, either for another island or for another country.
Today, the spirit of Polynesian hospitality is present in all tourist establishments,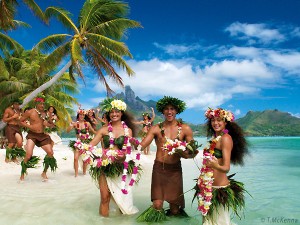 whether they be large luxury hotels or small family hotels and homestays. In homestays, travelers can discover the authentic Polynesia, sharing in the everyday lives of people between fishing, local cuisine or learning braiding.
With more than 250 establishments (pensions, guest houses, hotels and family fares), Polynesia offers the opportunity to experience the rhythm of the local population.